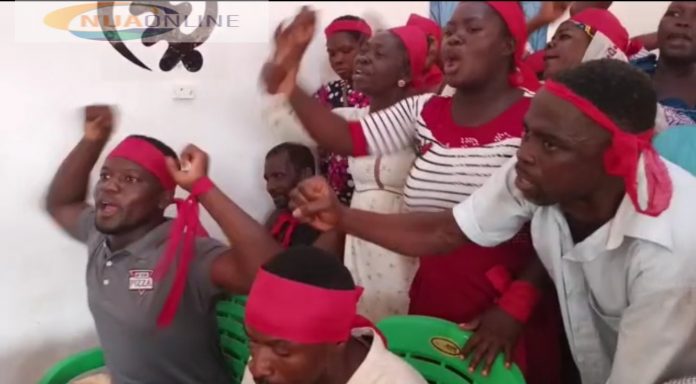 Aggrieved Agona East branch executives of the National Democratic Congress have warned their regional executives to stay away from the constituency elections.
They have made a vow to let blood flow if they make any attempt to conduct the elections Wednesday after the voter register was stocked with ghost names.
The livid constituency executives have alleged some regional and national executives have taken out names of some of their leaders from the register and replaced with ghost names in an attempt to disenfranchise some voters and impose their favourite candidates on them.
In an interview with Onua News's Nana Yaw Asare, Spokesperson for aggrieved executives, Rashid Tamimu revealed, "the Agona East Constituency elections was supposed to come off last Saturday. But when we got to the election grounds we found out that two of the aspirants who have gone through the appeals process names were not found on the ballot paper while over 400 delegates names were also not on the register."
"Apart from the 400 omitted list, over 150 ballot papers had also been taken away from the Chairmanship and Deputy Organizer ballots," he added.
Mr. Tamimu called on the national executives of the party to come and conduct the election.
He noted failure of the executives to heed to their call and allow the regional executives to carry out the exercise will not guarantee their safety.
Meanwhile, some aggrieved branch executives whose names have been eliminated from the register indicated they will not allow the elections to come off until the ghost names are expunged.
Source: Onuaonline.com|Ghana