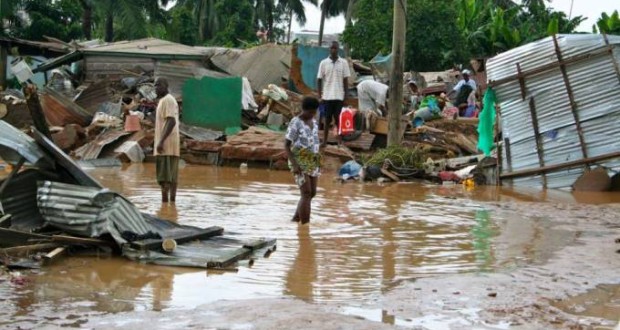 Five deaths have been recorded over the weekend in four districts of the Eastern Region after the recent floods.
The Eastern Regional National Disaster Management Organization (NADMO) Director, Kwame Appiah Kodua has confirmed.
He explained 10 more persons have been declared missing in the Nsawam Adoagyiri Municipality.
A total of 17 Municipal and District Assemblies have been affected by the floods.
The New Juaben North Municipality recorded 2 of the deaths whilst the New Juaben South Municipality, Denkyembour and Akyemansa recorded 1 each.
Three rivers, Birem, Densu and Ayensu overflowed their banks. Several households were also affected and displaced persons.
At Akwadum in the New Juaben North Municipality, 45 mud houses collapsed with affected residents losing properties worth thousands of Ghana Cedis.
The MP for New Juaben North, Nana Adjei Boateng blames the havoc largely on poor drains and illegal mining activities.
Municipal Chief Executive, Comfort Asante, concedes building on water ways was partly a problem.
She pointed out several house owners have already been prosecuted at the court.
"We will take action. You have no idea the number of people were are prosecuting at the court for building on waterways"
The Akwadum bridge over the Densu River was worse affected. The Regional Highway Director Ing. Patrick Okoto, explains, solution to the matter lies within all the allied agencies.
"Everytime it rains, the places get flooded, all of us have work to do to resolve it," he urged.
The NADMO Regional boss, Kwame Appiah Kodua, says assessment of the devastation effect of the floods across the region have not ended yet.
"17 MMDAs have been affected across the Eastern Region as a result of the floods from Friday September 30 to Monday October 3 2022. Five deaths have been recorded in four of the districts whiles 10 persons have been declared missing," he said.
By Yvonne Neequaye|E/R|Onuaonline.com