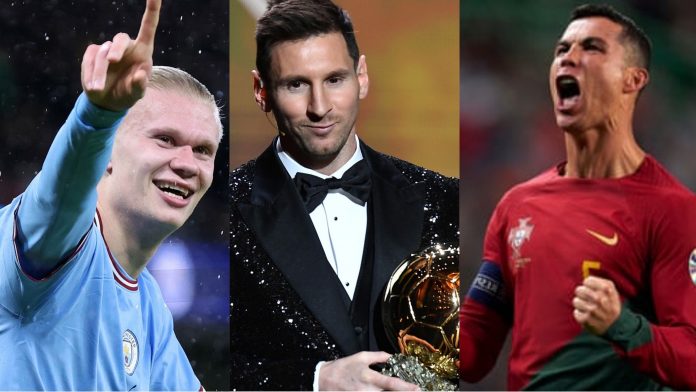 Football is typically a game of statistics and numbers, and some of the biggest names in the game have set some unbelievable records in the course of their careers which we may never see again.
Part of the reason the sport can be so exciting is the prospect of seeing records getting broke. This season, for example, we have Erling Haaland, who has broken a number of records in his maiden season in English football.
According to Sports Max, the Norwegian's hat trick against Burnley over the weekend placed his goal tally in the 2022/23 season at 43, becoming the sixth player to break the 40+ total.
Sports Brief takes a look at some records, including little-known ones, which exist in football and will be extremely hard to break.
1. Cristiano Ronaldo winning individual honors/trophies with 2 different clubs
Ronaldo is considered the Greatest of all time for a reason as he is the only player in history to win the Golden Boot, Ballon d'Or, Champions League and Club World Cup with two different clubs.
2. Pele's 3 World Cups
The late Pele is largely remembered for his exploits at the World Cup, which he won three times in 1958, 1962 and 1970. He remains the only player to do so.
3. Chelsea conceding just 15 goals in a league season
Jose Mourinho's Chelsea side back in 2004 was a force to be reckoned with and on their way to winning the Premier League, they only conceded only 15 goals as they amassed 25 clean sheets that campaign. No Premier League side has been able to achieve that feat so far.
READ ALSO: FIFA Club World Cup referee makes history by explaining VAR decision to spectators
4. Bas Dost 45 goals with 45 touches
Today, we talk of Erling Haaland's magic touch which always turns into goals. But six years ago, Sporting Lisbon striker Bas Dost went on an incredible run which saw him find the net 45 times with his first touch, a run that dated back to March 2017.
5. Messi's 91 goals haul
In the calendar year of 2012, Lionel Messi was on a rampage and went on a frightening run which saw him find the net 91 times, shattering a record previously owned by Gerd Muller who scored 85 in 1972.
6. Sadio Mane's Premier League hat trick
The list would not be complete without mentioning Sadio Mane's hat trick which took him just 2 minutes, 56 seconds to get three for Southampton against Aston Villa back in 2015.
7.Cristiano's 50+ goal haul for 6 seasons
Cristiano Ronaldo makes the list once again as he is the proud owner of a unique goals record, as per Sky Sports. The Portugal star might be in the twilight days of his career, but no one can take away his envious stat of scoring 50 or more goals in six consecutive seasons from the 2010/11 season which was his second at Real Madrid.
Honorable mention
An honorable mention in this list would be Lionel Messi's seven Ballon d'Or accolades, as no player has ever won that many individual awards in football history.
Messi's closest rival in that category is Cristiano Ronaldo who has five, while the favourites for this year's stand out award Kylian Mbappe and Erling Haaland, are yet to win a single one.
READ ALSO: Check how Cristiano Ronaldo captioned a picture he posted of him and Lionel Messi
Source: Sports Brief News