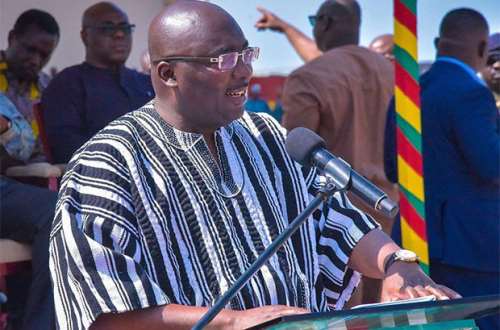 Vice President Mahamudu Bawumia has said John Dramani Mahama has nothing better to offer Ghanaians since he has had the opportunity to lead the nation before.
The 2024 flag bearer of the New Patriotic Party (NPP) says what the former president offered Ghanaians as a president was a dead goat syndrome which cannot be revived.
According Dr. Bawumia, the NDC flag bearer is convincing Ghanaians because he wants to get back to power and not to offer anything better for the state.
Dr. Bawumia was addressing an electrified crowd at Nalerigu Monday, November 20, 2023, as part of his 'Thank You' tour since elected flag bearer of the NPP on November 4, 2023.
"He is trying to come back so he is doing everything possible to convince Ghanaians but before he told us he was a dead goat. The dead goat cannot be revived," he said to a cheering crowd.
The Vice President continued that, "John Mahama is going round the whole country and promising everything to everybody. It is as if he has never been president of this country before. It is as if he has just landed from Mars."
He went ahead to rubbish the 24-hour economy promised by Mr Mahama, describing him as a man who lacks ideas.
"Today John Mahama says he is bringing a 24-hour economy. He doesn't even understand that policy because our hospitals are already working 24 hours, our electricity Company, water company, fuel companies work 24 hours," adding that Mr. Mahama did not create any jobs when he was President.
"When he was president, did he create jobs, did he tackle corruption, did he issue the Ghana card, did he bring mobile money interoperability, did he bring the Ghana property address system, did he bring the Zongo Development Fund, did he bring the teacher trainee allowance, did he bring free WiFi to schools, did he bring paperless ports, did he bring gold for oil, did he bring free SHS? All of these problems he couldn't solve. It was the NPP government under Nana Akufo-Addo who solved all those problems," he listed.
According to Dr Bawumia, he has brought great ideas even as Vice President than what former president Mahama did in his tenure as president.
"Even me as Vice President, I have solved many problems. What idea did Mahama bring as a Vice President? Dr. Bawumia has brought idea, after idea, after idea," he announced.
READ ALSO: Mahama lacks ideas – Bawumia