The family of the late undercover journalist, Ahmed Hussein Suale, has hit back at Assin Central Member of Parliament, Kennedy Ohene Agyapong, over his recent comments on their relative.
The lawmaker, in an interview with Roland Walker on TV3's New Day Wednesday, August 16, 2023, said he is never going to back down on any comment he made against the late journalist prior to his death.
Reacting to the assertion that his exposure of the journalist on national television caused his gruesome murder, the aspiring flagbearer hopeful of the New Patriotic Party (NPP) said he was not going alter his comments because he is seeking to become President.
READ ALSO: Prevention will not cost you as much as cure – Why Ken Agyapong backs any intention by govt to support ECOWAS with troops to Niger
"He was a bad man. I won't change my stance on him because I want to be President. His own deeds caused his death not me," Ken Agyapong said on TV3.
In a statement signed by Ibrahim Kamilu Tahiru for and on behalf of the Divela Ahmed Hussein Suale Family August 16, 2023, the family insisted the MP's utterances about Suale caused his death.
The family explains that Ken Agyapong's comments incited violence against Mr. Suale which subsequently led to him being murdered by his assailants, still unknown.
"Clearly, Kennedy Agyapong was rallying support for the lynching of Ahmed without any restriction," portions of the statement indicated.
Ahmed Suale, 31, an investigative journalist, worked with Tiger Eye PI, the investigative firm established by Anas Aremeyaw Anas, known for its use of undercover journalistic methods to expose corruption and other ills in society.
READ ALSO: If Victoria Hammah was chastised for merely dreaming it, Cecilia Dapaah deserves more for having it – Ken Agyapong on Fmr. Sanitation Min's stolen wealth
His murder in Accra in January 2019, sent shivers down the spine of media practitioners across the continent who were aware of the Tiger Eye team's work, causing many journalists in Ghana to openly express fear for their lives.
Ken Agyapong had cited Ahmed Suale as one of Anas' men who put together the damning documentary on corruption in Ghana football, dubbed, Number 12.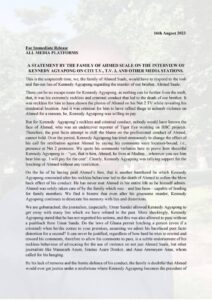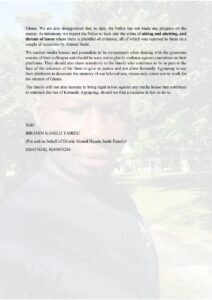 READ ALSO: He was a bad man, I won't change my stance because I want to be President – Ken Agyapong on Ahmed Suale