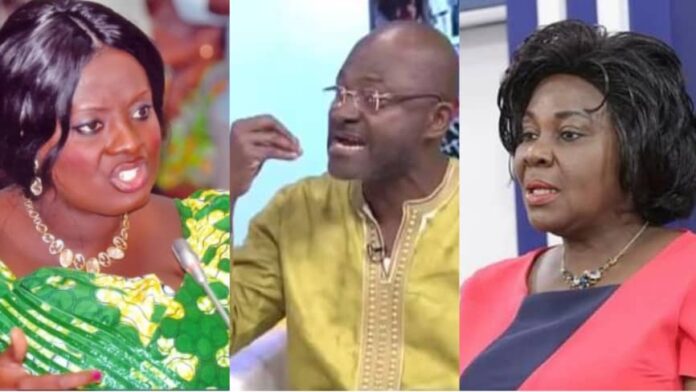 Member of Parliament for Assin Central, Kennedy Agyapong, has likened Cecilia Dapaah's stolen wealth saga to that of Victoria Hammah, a former deputy Communications Minister under the erstwhile Mahama government.
The MP says the amount of monies discovered from the former Sanitation and Water Resources minister's residence is more damning than Victoria Hammah's mere dream of acquiring same wealth which got her dismissed.
Commenting on the issue Wednesday, August 16, 2023, the flagbearer hopeful of the NPP, Ken Agyapong said, the consequences of the wealth stolen from Cecilia Dapaah's residence and those discovered afterwards cannot be escaped by the NPP and the government considering how Victoria Hammah's issue was treated.
"Like I said when Victoria Hammer said when she gets 1million dollars, she is going to do ABCD, look at how Ghanaians chastised her. So, the 1million…." if I get" and the one who has it, so it's a big problem and we cannot run away from it. I am telling you the truth. Whoever, is watching and listening, I know there will be backlash but I don't care," he told Roland Walker on New Day.
READ ALSO: Cecilia Dapaah's stolen wealth: I find the conduct of the Attorney-General unacceptable and unethical – Dafeamekpor
"If you have money then you can control people," Victoria Hammah had said on a tape which got widely circulated on social media in November 2013.
Miss Hammah who played a key role in President Mahama's election the previous year appeared to have vindicated some pundits who felt she was too young and inexperienced to occupy the position.
In August 2023, Victoria Hammah had indicated she was under pressure to embezzle public funds due to the "obnoxious" demands from people who thought she was rich because she occupied a ministerial position.
READ ALSO: Ernest Owusu-Bempah writes: John Mahama's legacy of corruption rages on