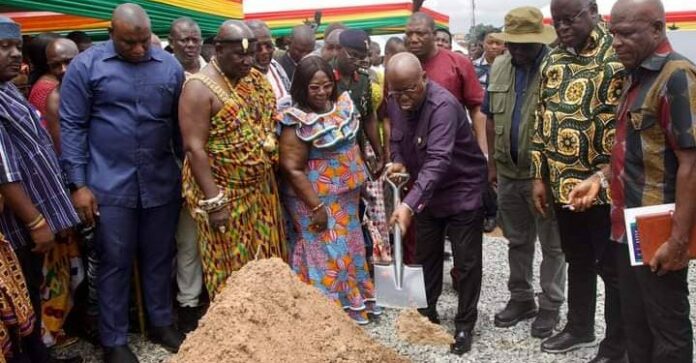 President Addo Dankwa Akufo-Addo has cut sod for the construction of the Pokuase Housing project, as part of the government's new National Affordable Housing Programme (NAHP).
The Pokuase project seeks to provide 8,000 housing units to meet the demands of Ghanaians in the housing sector especially those within the low to medium income earning range. The project is a strategic partnership with the private sector.
The private sector involvement will be leveraged by the government to reduce the financial burden on the state while ensuring high-quality and cost-effective housing solutions for Ghanaians.
READ ALSO: Saglemi suit: Evidence abounds in favour of Collins Dauda – Kwakye Ofosu
At the sod-cutting ceremony in Accra Tuesday, August 1, 2023, President Akufo-Addo said completing the Saglemi Housing Project would have cost the government more.
"We are aware of the delays and setbacks encountered during the execution of this project. The issues about the scope of work and the money expended on the Saglemi project have been taken to the Criminal Investigations Division of the Ghana Police Service for investigation which has resulted in criminal judicial proceedings. However, in the meantime, to forestall the project from deteriorating, the Minister of Works and Government has actively engaged government, cabinet, the Ministry of Finance and the office of the Attorney General on the completion of the project."
READ ALSO: Facts are sacred! Sammy Gyamfi replies ET Mensah on Saglemi suit
"It has been established that in addition to the $198 million already expended on the project, the government has to raise additional funding to the tune of $46 million to complete the infrastructural works. That is water, electricity, and drains to mitigate flooding. Further, $68 million is required to complete the buildings and other essential onsite infrastructure works like the waste holding bay, sewage treatment plants and the development of socioeconomic and civic infrastructure such as basic school, clinic and shops," he stated.
President Akufo-Addo noted that based on the assessments and having taken into account the project location and viability, the cabinet directed the Minister of Works and Housing, Francis Asenso-Boakye, to explore the possibility of exposing the Saglemi housing project at the current value to the private sector to complete at no further cost to the government.
READ ALSO: Saglemi Housing project for sale to brother-in-law of a powerful person in gov't – Captain Smart alleges