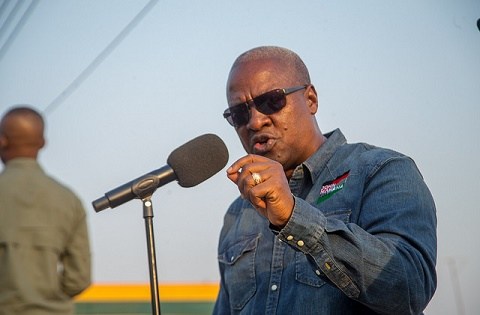 An increase of cocoa price from GH₵800 to GH₵1,308 per bag for the new cocoa season has been criticised by former President John Dramani Mahama.
Even thought President Akufo-Addo says the increment is the highest in the whole of West Africa in the last 15 years, the 2024 flagbearer of the National Democratic Congress says the price is a rip-off and would make cocoa farmers worse than they were 7 years ago when he was the President.
The President announced a 63.6% upward adjustment of the farm gate price of cocoa beans for the 2023/2024 season at Tepa on Saturday, September 9, 2023.
He made the announcement during the opening of the 2023/2024 cocoa season.
But, according to Mr. Mahama, "the Akufo-Addo/Bawumia/NPP government has once again shortchanged Ghanaian cocoa farmers. The announced increment in the farmgate price of cocoa to GH₵1,308 is a total rip-off as cocoa farmers will continue to remain worse off than they were seven (7) years ago under the NDC/Mahama government. The Spot Price of cocoa on the international market has surged to a record high of about $3,600 per metric ton as of 31st August 2023. This price is the highest since 1977- that is, in the last 46 years."
He described the government as "insensitive and wicked" towards cocoa farmers.
"This means that the Akufo-Addo/Bawumia government is retaining a whopping GH₵1,516 while giving the poor cocoa farmer only GH₵1,308 per bag of cocoa. This reality further highlights the insensitivity and wickedness of the Akufo-Addo/Bawumia government which has dealt a raw deal to cocoa farmers since coming into office.
"The evidence points to the fact that the Akufo-Addo administration has the worst record in terms of increases in cocoa prices in Ghana as they are the first government in the history of the Fourth Republic which refused to increase the farmgate price of cocoa for three consecutive seasons – 2019/2022, 2020/2021 and 2021/2022 cocoa seasons".
In the 2023 mid-year budget review statement,  the government promised a 65% international F.O.B price which the former President says should have been implemented.
"Given the fact that this government failed to increase the farmgate price for all these years despite high inflation, we hold the view that this government should have given the cocoa farmer at least 65% of the international F.O.B price as they promised in the 2023 mid-year budget review statement," he indicated.
READ ALSO: Media General's Ibrahim Abubakar adjudged 'Journalist of the Year at Ghana Cocoa Awards 2022'