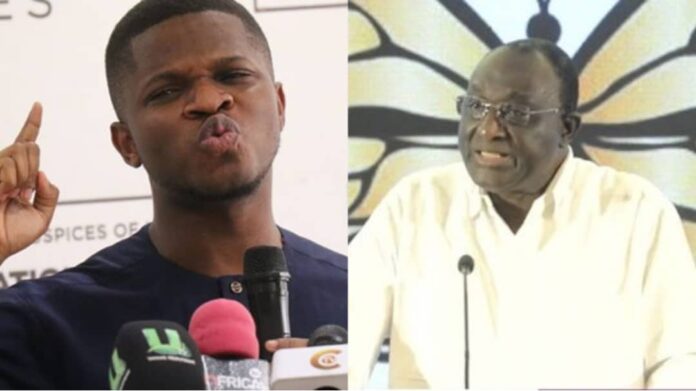 The National Communications Officer of the National Democratic Congress (NDC), Sammy Gyamfi, has indicated that the resignation of Alan John Kwadwo Kyerematen from the New Patriotic Party (NPP) does not make him a viable alternative for the failed government.
The private legal practitioner says Mr. Kyerematen superintended over the Trade and Industry ministry to contribute to the mess the NPP has created since assuming power in 2017.
In a statement issued Monday, September 25, 2023, Mr. Gyamfi, despite admitting that Mr. Kyerematen has been treated unfairly by the NPP said he (Alan) cannot absolve himself from the failure of the NPP.
"The point has to be made forcefully, that Alan is not a viable alternative to the failed incumbent NPP government.
"As a Cabinet Minister responsible for Trade and Industry and a member of the Economic Management team from 2017-2023, Alan Kwadwo Kyeremanteng actively participated in the destruction of the economy into the mess it is today.
"Under his watch, the Komenda Sugar Factory was abandoned to rot for almost six (6) years. Growth of the manufacturing sector declined significantly and businesses were suffocated by the bad policies of his Ministry and government leading to several job losses," he said in his statement.
He described Alan Kyerematen as having the "same value" like the established candidate of the NPP, Vice President Mahamudu Bawumia.
Background
Alan John Kwadwo Kyerematen, an aggrieved flag bearer hopeful of the ruling New Patriotic Party (NPP) declared his intentions to contest the 2024 presidential election as an independent candidate Monday, September 25.
The decision followed his resignation from the party Monday, September 25, 2023.
The former Trade and Industry Minister has formed a new movement for change with the slogan, 'Ghana can rise again' using the butterfly as his logo for the 2024 contest.
Alan reiterated that he resigned from the NPP presidential elections as a result of what he has described as blatant attack on his supporters.
He says his supporters were treated with disdain without punitive measures by the Election Committee of the NPP to correct the ills that characterised the special delegates' conference on August 26.
He also noted that the monitisation that characterised the first phase of the party's presidential primary is unprecedented in the history of the NPP's internal elections.
He told the media his continuous stay will further bring division and cracks in the party, saying the NPP has been hijacked by a selected few.
Meanwhile, NPP Chairman, Stephen Ayesu Ntim, had said Mr. Kyerematen wasn't going to resign following talks that he had with him in his residence.
This is the second time the former Trade and Industry minister has resigned from the party following the first one after the 2007 primary.
READ ALSO: Alan not quitting NPP despite concerns – Chairman Ntim assures