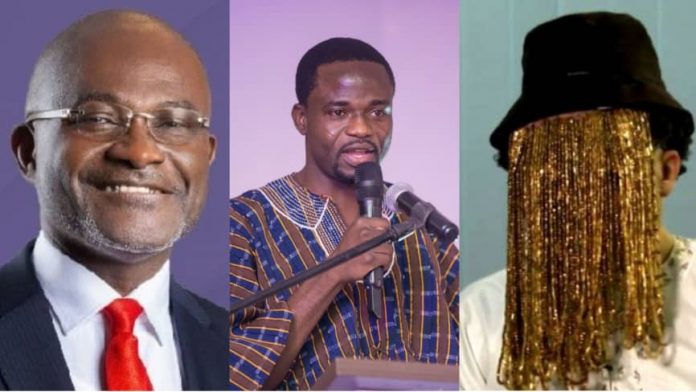 2018 West African Journalist of the Year, Manasseh Azure Awuni, has cautioned his colleague investigative journalists to always apply the ethics of the profession in their works.
He says the fact that one carries an investigative piece does not mean the ethics of the profession should be abrogated.
Mr. Awuni Azure who was commenting on the ruling of the Accra High Court on the defamation suit between Anas Aremeyaw Anas and Kennedy Ohene Agyapong noted "the fact that money has changed hands does not mean corruption has taken place. The fact that there is video evidence does not say everything about the story."
His comments were to advise journalists to give people the opportunity to explain themselves for taking certain actions even after there is evidence to that effect, to avoid putting out works that would bring regrettable consequences.
READ ALSO: Anas reminds Ken Agyapong not to forget his defamation suit ongoing in the US
According to Manasseh, even though he does not agree with everything the judge said about Anas in his ruling, people who are caught in investigative pieces must be given the opportunity to defend themselves since the consequences of investigative pieces may be dire on the victims.
He for instance said one must be allowed to explain why he was caught easing himself in the open before his image is published if a journalist is conducting an investigation about open defecation since the person could have been diagnosed of serious diarhoea and is just returning from the hospital.
"You need to apply ethics in this kind (investigative work) of a story even more vigorously than the normal routine reporting because the implication of this kind of journalism is dire.
"Some people would go to jail, some will lose their jobs, some will die, some people's reputation will be damaged so I do not think that ethics shouldn't apply. It is not a thin line between ethics and undercover reporting. The line is very broad. It should never be blurred and if you're in doubt about the person's culpability, it is better to take them out than to put them in there and get them embarassed," he told Alfred Ocansey Saturday, March 18, 2023, on the Key Points on TV3.
READ ALSO: 'We will continue to build for God and country' – Anas
Justice Eric Baah dismissed a defamatory suit sent by Anas Aremeyaw Anas against Member of Parliament for Assin Central, Kennedy Ohene Agyapong, for some words the journo deemed unprintable that were used against him in 2018.
This followed the airing of an investigative piece titled 'Number 12' taken by TigerEyePi which Anas heads. The MP, dissatisfied with the modus operandi of the investigative firm described Anas as a blackmailer, evil, corrupt and an extortionist which he backed with a counter piece, 'Who watches the Watchman'?
The court ruled that the MP provided enough evidence to substantiate his claims about Mr. Aremeyaw and dismissed the case, awarding a GH₵50,000.00 damages to the MP which Ken Agyapong said he would not take during an engagement with the media after the ruling.
READ ALSO: Ken Agyapong gifts Anas GH₵50k after defamation victory against him
Manasseh also told journalists to try and minimise the harm their investigations will cause to others.
Citing his work, 'Robbing the Assemblies' for instance, he said he got audios of some managers of Zoomlion Ghana Ltd. who spoke ill of the company's boss, complaining about how they don't receive the requisite funds to do the work despite government paying huge sums of money to Zoomlion.
REAS ALSO: Asantehene extols Dampare's exemplary leadership
According to Manasseh, he could still tell his story without the voices of those managers and didn't see the need to add such audios which could have led to them losing their jobs considering the fact that they did not initiate those contracts with the government but rather the management of Zoomlion.
Abuga Pele who went to prison as a result of an investigation made by Manasseh in an interview after his release from prison said he has no problem with how the journalist does his work according to the Editor-in-Chief of the Fourth Estate.
"I think that we need to be very careful so that when the story comes out if somebody is going to jail, they're going to jail for something they know even if they will not admit it publicly, deep down within their heart they will praise you," he admonished.
By Felix Anim-Appau|Onuaonline.com