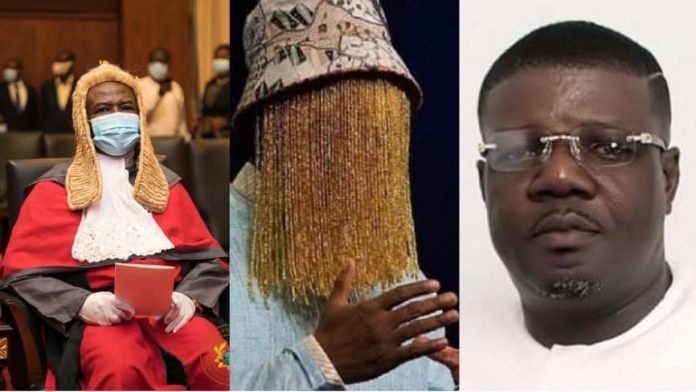 Member of Parliament for South Dayi, Rockson Nelson Dafeamekpor has said the judge who presided over Anas' defamatory suit against Ken Agyapong "spoke more as a lawyer than a judge."
The lawmaker says the adjudicator could have used different words in his ruling to still send his message across than the "strong words" applied.
An Accra High Court on Thursday, March 16, 2023 dismissed a GH₵25 million defamation suit against Kennedy Ohene Agyapong brought before it by investigative journalist Anas Aremeyaw Anas.
The judge, Justice Eric Baah held that the plaintiff  failed to prove that the defendant defamed him by airing the documentary "Who watches the watchman"  to counter a "Number 12" documentary exposé made by Anas Aremeyaw Anas and his TigerEyePi team.
READ ALSO: Anas vs Ken Agyapong: 'The fact that money has changed hands does not mean corruption has taken place' – Manasseh
Justice Baah said in his ruling that the documentary –Who watches the Watchman –exposed the shady deals Anas and his associates were involved in.
Anas prayed to the court to award GH₵25 million against Mr Agyapong to compensate him for the defamatory material published against him by the MP.
But the court which concluded that what Anas is engaged in is not investigative journalism but rather "investigative terrorism" and that Mr. Agyapong was justified to call him the names he used against him said the defendant failed to prove otherwise of what was contained in the video.
"What runs through the gamut of accusations by the defendant are references to the plaintiff as a criminal, murderer, evil person, thief, a cheat, fraudster, extortionist, blackmailer, corrupt, landgrabber, tax evader, bribe taker/giver, cheat, interferer in the administration of justice, terrorizes people, email hacker, among others," part of the judgement read.
Speaking on the Key Points on TV3 Saturday, March 18, Mr. Dafeamekpor who who is a lawyer said "I see prejudice directed at the plaintiff (Anas Aremeyaw) because the nature of the language, choice of words used in writing the judgement… the judgement could have been entered similarly by using different choice of words and language."
READ ALSO: Journalist calls for Putin's prosecution after admitting information about Russian army
He continued that "the language is too strong. You don't refer a party to a court as a criminal, an extortionist, a balckmailer in a judicial writeup, in a judgement of a court, it's too strong."
By Felix Anim-Appau|Onuaonline.com