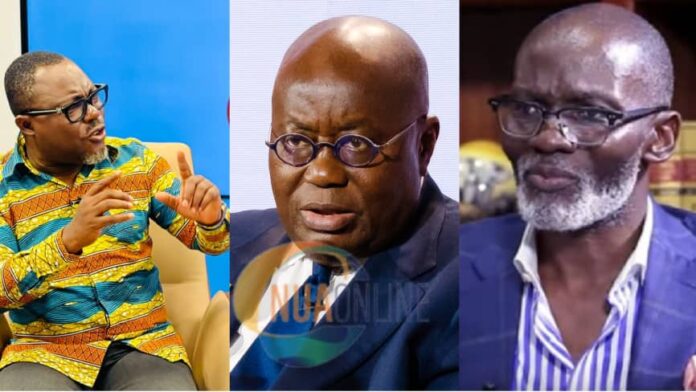 A September 2015 tweet made by Gabby Asare Otchere-Darko, a stalwart of the ruling New Patriotic Party and brother to the President stares at him after Prof. Ransford Gyampo reminded him of the borrowing spree of the Akufo-Addo government.
According to Prof. Gyampo, even though Ghana is presiding over abundant resources which shouldn't have bankrupted the state, the deeds of the government justifies Akufo-Addo's own "Yɛte sika so nanso ɛkɔm de yɛn" to wit we are in distress in the midst of abundance.
The University of Ghana Political Science lecturer whilst speaking on the Key Points on TV3 Saturday, May 27, 2023 said government is too serious a business for people to be making certain utterances when in opposition, making reference to Gabby Asare Otchere-Darko's September 15, 2015 tweet.
His comments stems from President Akufo-Addo's quest to return to the international capital market soon following Ghana's bailout from the Bretton Wood Institution.
READ ALSO: Report on illegal mining cites Gabby Otchere-Darko for defending company engaging in galamsey
READ ALSO: 'People like Gabby are not important' – Sophia Akuffo claps back at Otchere-Darko 
"If running an economy was all about borrowing your way into an unsustainable debt hole, then any halfwit can be president. Do you know who a halfwit is, a stupid or a foolish person. So I was a bit worried when the President just hinted that we may go to the capital market.
Buying into Dr. Theo Acheampong's assertion that going to the capital market was something that shouldn't be on the table now, Prof. Gyampo wondered "if we have all the resources here, why do we think about quickly going to the capital market?
It's the president who said 'yɛte sika so nanso ɛkɔm de yɛn.' It means we have all the resources here and in fact if we are truly going to go by some of the things the IMF is telling us to do and if we ourselves are going to look beyond some of the things that the IMF is telling us to do, then truly we'll see that we are really presiding on resources where there would be no need for us to think about going to the capital market to be talking about borrowing."
The former Director of the Centre for European Studies was explicit that "government of a developing country is too serious a business to be reduced to just borrowing and that if running an economy is all about borrowing your way into an unsustainable debt hole, then Gabby Asare Otchere-Darko says any stupid or foolish person can become a President."