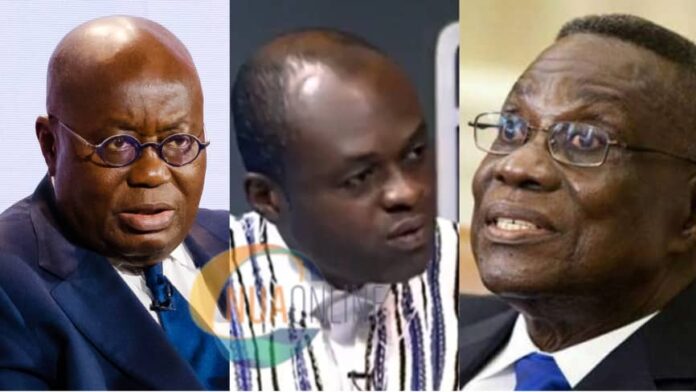 But for the late President John Evans Atta Mills who exercised some modicum of honesty, the remaining politicians are all "bad boys" according to private legal practitioner, Martin Luther Kpebu.
Mr. Kpebu, citing failed promises of politicians from the United States down to Ghana on Alfred Ocansey's the Key Points Saturday, May 27, 2023, said no politician can be trusted with honesty except the late Professor.
According to him, President Akufo-Addo made 18 promises to Ghanaians which have not seen the light of day just as President Bush of the United States who also made promises and failed to honour them.
He says the dishonesty of politicians leave electorates with two evils to choose the lesser amongst them, the reason people sometimes vote based on affinity rather than competence.
"NDC-NPP they are all bad boys, 'baaaad' boys except for Atta-Mills that we've known to be an honest man. The rest, who? We can't vouch for them. So when you look at it that way then you will vote on identity politics, the one who comes from your village or next to your village so to say, he is tribally close to you etc.
READ ALSO: EC official grabbed for allegedly voting NPP against elderly woman's NDC wish in Kumawu
READ ALSO: We'll take Databank to court when Akufo-Addo leaves office – Kpebu
"And then when we talk about failed promises I went to Bush Snr, Bush 41 and we had to give examples domestically and that's how come we've landed on Akufo-Addo and his promises so let's do some small revision," he stated.
Mr. Kpebu went ahead to list the 18 promises the President has failed to honour as follows:
He says I shall protect the public purse; oo no no Databank is taking too much money he is not protecting any public purse.
I am too old to steal your money, I have my own money; that's a lie! We all know how he's made money.
'Yɛte sika so nanso ɛkɔm de yɛn to wit we have abundant resources yet we are starving.
Try me and see.
I am not corrupt and I'll never be corrupt; obviously a lie. His corruption has defeated him.
I can develop Ghana without borrowing, the money is here; Are we not debt ridden now?
I will transform Ghana in 18 months.
I will not operate a family and friends government; What is Ofori-Atta doing in government and the other brothers and relations?
I will fight corruption with the Anas principle; when Anas' whole life is under threat.
I will make the Korle lagoon and the Odo River a tourist site.
I will build a factory in every district.
I will give every constituency $1million every year; It has not happened.
I will arrest the dollar; the dollar they say they arrested and it bolted when they keys were still with the IGP.
The hikes in fuel prices will be a thing of the past.
I will make Accra the cleanest city in Africa; It hasn't happened.
I will build 111 hospitals in eighteen months; 'na lie!'
I will build 350 secondary schools; also a lie!
We will never go to the IMF for a bailout.
READ ALSO: From Eric's Diary: Why Dr. Mahamudu Bawumia must bide his time
His comments come on the back of the 11th hour projects that were rushed in Kumawu ahead of the by-elections which he says is because citizens have been taken for granted with failed promises from politicians.