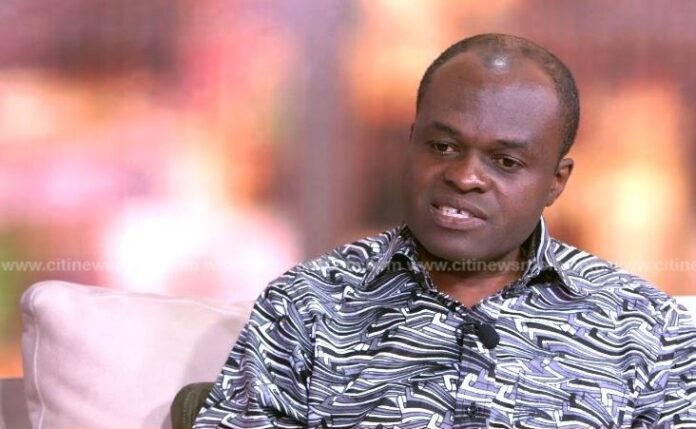 Private legal practitioner Martin Luther Kpebu has said he will go to court after President Akufo-Addo's term of office is over to reclaim all the monies Databank is making from Ghana's bonds.
According to the lawyer, the President's brother, Kenneth Nana Yaw Ofori-Atta being the Finance minister and also advising the government on loans where his company benefits from is an absolute conflict of interest, an act of corruption that should not be countenanced in any serious country.
Speaking with Alfred Ocansey Saturday, April 29, 2023, on TV3's KeyPoint, the lawyer said he wants the NPP to be out of government to initiate a legal action for the retrieval of the money.
"Less than 20 months or thereabout President Akufo-Addo will be going with Ofori-Atta. They're going to be out of government then we'll go to court. They will vomit it. We'll take this money back. The money Databank made from the bonds, we'll take it back. Not here in Ghana. Are we fools?
"You come and promise that you're the philosopher king, incorruptible, "I'm not corrupt" then we vote for you and then clearly, so blazingly, very nauseating, broad daylight then you put Databank there and they're making hundreds of millions of dollars from our bonds," the lawyer lamented.
READ ALSO: What John Mahama said about Frimpong-Boateng's IMCIM report
READ ALSO: 'We want him to come and show us where Akufo-Addo was doing galamsey' – Kyebihene calls out Frimpong-Boateng
Speaking about the hardship the Akufo-Addo government has brought on Ghanaians whilst making himself and his family rich, he said "today our people are dying, today people can't buy drugs, today people are starving, today people can't pay rent and you have become richer. We'll take that money back as long as we live."
Background
Renowned broadcaster Kwasi Kyei Darkwa had revealed on GTV's Breakfast Show on Wednesday, August 17, 2022, that Ken Ofori-Atta's company, Databank is used as a transactions advisor to the government on loans that are entered into by the state.
He described as foolishness and nonsensical, the use of the bank which belongs to the President's brother as transactional advisors for the international loans Ghana takes.
He called out Parliament for sleeping on their job by allowing Ofori-Atta to engage in such activities with his own company.
According to him, "I read a report yesterday that broke my heart. I saw how much Ghana owes but I also found that apparently, the minister of finance's company or former company, is the transaction advisor to the monies we borrow. So, as Ghana gets poorer, the minister of finance's company or former company gets richer."
"Is this what we want to continue in this country? Do we want to elect people into office, give them their pay and perks and then allow them and their friends and their companies or their former companies to be the very beneficiaries of the woes of our country?" KKD asked.
READ ALSO: [VIDEO] A.B.A. Fuseini storms Parliament with kenkey and fish to demonstrate how the economy has impacted cost of living
Follow @Felix Anim-Appau