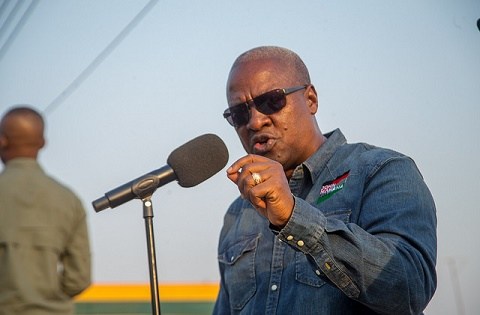 John Dramani Mahama has added his voice to the series of comments stemming from the 37-page Inter-Ministerial Committee on Illegal Mining (IMCIM) report submitted to the Chief of Staff in March 2021.
According to the former President who is also flagbearer hopeful of the opposition National Democratic Congress, the damning revelation of persons involved in galamsey activities in the Prof. Kwabena Frimpong-Boateng-authored document is an indication that the NPP is not committed to protecting Ghana's forest reserves and water bodies.
Speaking with delegates at Tanoso in the Western North region during his campaign tour, the former President said government has lost the morality in curtailing the canker.
READ ALSO: [VIDEO] Lady who sued First Atlantic Bank CFO opens vacancy for new sugar daddy; this time around, with conditions
"It's been about 2 weeks now when we had a former minister who was in charge of the galamsey fight coming back to say that it is the NPP leadership who are involved in the galamsey mess. This came from Prof. Frimpong-Boateng, their own minister and not me. And he mentioned some are even in the Jubilee House.
Citing the high temperature in the Wiawso enclave, Mr. Mahama said the increasing galamsey activities in the Akufo-Addo era has accounted for the drastic climate change that is directly affecting the previously cool temperature areas that were protected by the forests.
"In retrospect when you go back to when NPP assumed office, all of our forest reserves that were a no-go area for anybody they've destroyed all the reserves.
READ ALSO: KT Hammond is an analogue politician trying to find relevance in a digital world – Ivan Kyei
"When NDC was in government, Rawlings' time and also Kufuor, when we say it's time for the harmattan season, you don't feel it here in Sehwi Wiawso and Bibiani here but for these days it's as if here is Tamale, the place is so dry and there are bushfires; they've destroyed all of our forests," he accused.
"So he has even accepted that they are the ones involved in galamsey and as they even do it they sideline others like they are not Ghanaians. The community mining they brought, it is their MPs, DCEs, Ministers and their leadership they are the ones behind it. Someone's excavator can be taken and given to an NPP person to continue 'work'. Our youth that also go there to work to get something to eat are incarcerated meanwhile the leaders do it and are not arrested," he added.
John Mahama also lamented how the NPP have made galamsey more attractive than cocoa, destroying Ghana's environment.
He said "when NDC was in office, every year we adjust the producer price but they adjust the price after 4 years and so it doesn't make the cocoa work attractive. And so I saw a video one day in which a cocoa farmer sold his farm to illegal miners for them to mine gold and he said he did that because he's no more benefitting."
He also criticised the delay in payment of the cocoa farmers as well as their bonuses.
By Felix Anim-Appau|Onuaonline.com