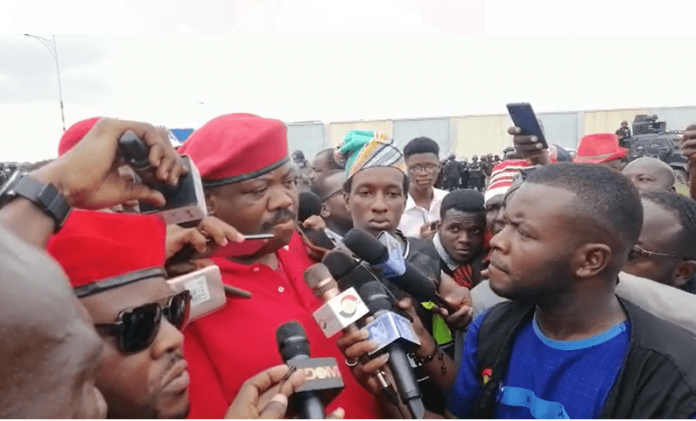 Joshua Akamba, one of the organisers of the Arise Ghana demonstration says they will confront the Ghana Police Service in equal measure at the law court.
While the police have said they will press charges on the frontiers of the protest for several violations during the first day of the protest, Mr. Akamba has also assured of his group pressing charges against the police for misconduct.
He has emphasised that the action of the police will not intimidate them, and just as Nkrumah struggled to save Ghana, they'll also rescue the country from the current insensitive government.
Speaking to TV3's Komla Adom at the Day 2 of the demo, Mr. Akamba said "we will make case against the Police. Whiles they are making case against us, we will also make case, we will press charges against them.
"Tell them that we are not afraid of their intimidation. Nkrumah came out of jail and became president we will rescue this country."
The police say the damages and destruction of public properties caused by the demonstrators is warranting the arrest of the organisers for their arraignment before court.
The action, according to the law-enforcement agency, is in line with provisions of Section 3 of the Public Order Act, Act 491.
The #KromAyɛHyi dubbed demonstration staged Tuesday was characterised with violence where protestors pelted stones with the police firing back teargas at them.
The mayhem was triggered by the group's insistence to march to the seat of government – the Jubilee House, through the Ring Road Central.
29 persons have so far been arrested.
"Available video footages of the event are being reviewed and all other persons identified for taking part in the attacks as well as inciting the violence will be arrested and brought to face justice," the police said in a press release on Tuesday, June 28.
It observed that there is a "calculated falsehood" and "misinformation" being peddled by the leaders of the demonstration.
"We urge the public to disregard the untruths and treat them with the contempt they deserve, for the footages and images of the event speak for themselves."
By Felix Anim-Appau|Onuaonline.com|Ghana