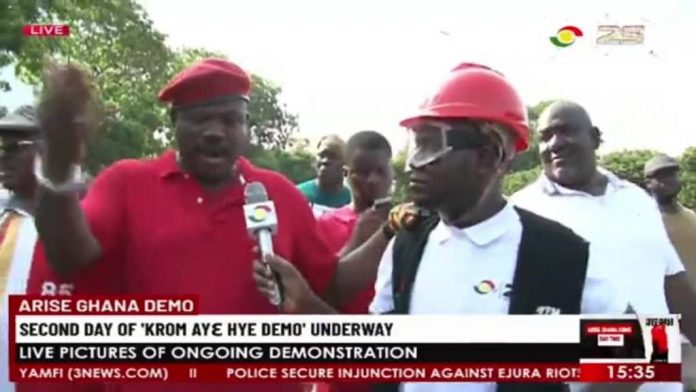 A leading member of pressure group, Arise Ghana, Joseph Akamba intimates the Ghana Police Service must be cited for contempt.
The law enforcement agency according to Mr. Akamba deceived the court to change the initial route for their protest.
Speaking to Komla Adom Wednesday, June 29, 2022, National Organiser of the opposition National Democratic Congress said the demonstration was peaceful as compared to the chaotic one yesterday, making him question what caused Day One's mayhem and why the police deceived the court to change their arrangement.
He also berated the adjudicator of the case for allowing herself to be deceived.
"The police must be cited for contempt. They have deceived the judge and the judge too, I'll say shame to whoever that judge is. You know why? The judge took us off. Don't go here, don't go there.
"She sat on our fundamental human rights. The right to move about. We have gone to the police, we've given them notice, more than two weeks notice. So even the judge should know. Why should they wait till the following day for us to have this engagement where we've told our colleagues that this is where we'll be passing?
"Then all of a sudden you take us off gear. Completely from where we were supposed to use. Completely diversion. It was unnecessary so the police should be cited for contempt," he uttered.
Today marks Day 2 and final day of the Arise Ghana #KromAyɛShi demo which commenced on Tuesday June 28.
The Ghana Police Service prior to the protest filed a petition at the Accra High Court seeking an alteration in the time and route for the protest.
According to the Cops, concerns for public safety had to be prioritised and the route and time of the protest would have had the propensity to compromise that.
Even though time and route for the demo were changed by the court, the organisers were not perturbed, filed a review and assured their followers the exercise would come off.
The first day saw a lot of chaos where the demonstrators threw stones at the security officers, who in turn fired teargas and arrested 19 persons.
Meanwhile, Day Two of the event went on peacefully making Mr. Akamba say concerns of possible violence raised by the police in court were absolute deceit.
By Felix Anim-Appau|Onuaonline.com|Ghana