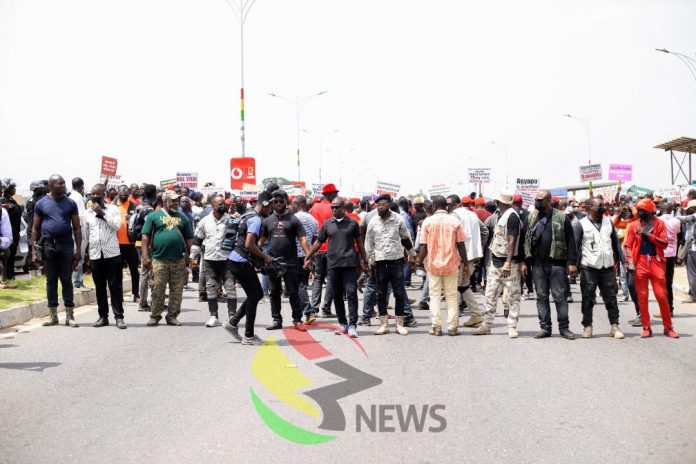 A security expert has cautioned that the demonstration staged by pressure group Arise Ghana with its accompanying violence specifically on the Day One of the event is part of early "warning signs" to government.
The Kofi Annan International Peacekeeping and Training Centre's (KAIPTC) Research Officer, Mustapha Abdullah, says circumstances that led to the infamous Arab Spring over a decade ago should serve as a lesson for government to proffer early solutions to the concerns being raised by the protestors.
"There is fear that if they allow such demos to go on, it'll make them unpopular aside from the fact that it can cause the overthrow of the government.
"There is something called early warning signs so if something is going on, the government shouldn't be complacent"
He added that: "Successive demos can cause insecurity because economic situations trigger a lot of the demonstrations. When you look at the 2011 Arab spring, it was caused by economic situations. Tunisia, Egypt, Lybia, Syria, Lebanon so many at times when protests become repetitive, it has dire consequences which includes overthrowing a government so all these fears, coupled with information being picked from political actors is making them react in this manner."
The #KromAyɛHyi dubbed demonstration staged Tuesday was characterised with violence where protestors pelted stones with the police firing back teargas at them.
The mayhem was triggered by the group's insistence to march to the seat of government – the Jubilee House, through the Ring Road Central leading to the arrest of 29 persons.
"Available video footages of the event are being reviewed and all other persons identified for taking part in the attacks as well as inciting the violence will be arrested and brought to face justice," the police said in a press release on Tuesday, June 28.
But Mr. Abdullah, speaking with Captain Smart Wednesday on Onua TV during the demonstration said "the government in power fears that the demonstration can lead to insecurity.
"Government is jittery of insecurity, second it would make them unpopular because the West African sub region is not at peace, Mali, Burkina [for instance].
"Terrorism is one thing the government wants to avoid especially in the Northern part of the country. All these put fear in the government. If demonstrations are allowed it could generate into these insecurities," he noted.
By Felix Anim-Appau|Onuaonline.com|Ghana