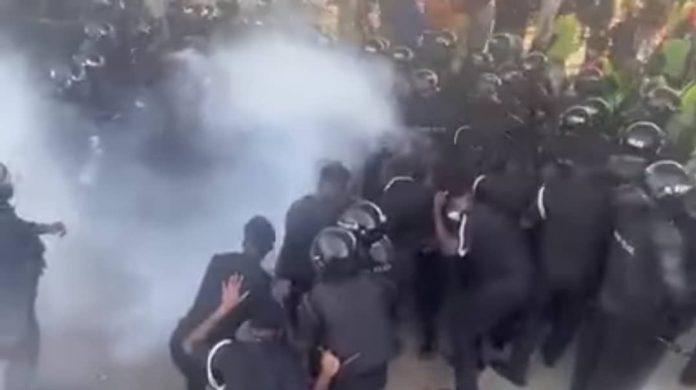 A Former Head of International Institutions and E-learning at the Kofi Annan International Peacekeeping and Training Centre has said the solution to the teeming unemployment in the country is not "rubber bullets and teargas".
The security expert says the youth of Ghana need jobs which must be addressed by leadership rather than confronting them with ammunitions.
He was speaking on the aftermath of the Arise Ghana two-day #KromAyɛHyi demonstration with Captain Smart on Onua TV/FM's Maakye on Thursday June 20, 2022.
In his analysis, Dr. Nii Okai averred the government must dialogue with the youth to proffer solutions to the challenges they are facing themselves rather than imposing things on them.
"The youth have legitimate issues which must be engaged. The African leaders should go back to the basics. Engage the youth to profess their own solutions. You don't impose solutions on them. It is not rubber bullets and teargas."
He indicated if issues get to the level last Tuesday's protest got to, it then signifies a deficiency in leadership.
"If the youth engage in protests to get to this level, that tells you you're not doing your work well," he stated.
A Research Officer at KAIPTC, Mustapha Abdullah, has earlier indicated the Ghana Police Service overreacted at the Day One of the demonstration.
Juxtaposition of events that marred the first day of the two-day protest with the harmonious and peaceful nature of the second day spells the overreaction on the part of the law enforcement agency according to Mr. Abdullah.
Commenting on the two days protest on Onua TV with Captain Wednesday, June 29, 2022, Mr. Abdullah blamed the police's unprofessionalism for poor control of the crowd for the chaos on Tuesday.
"In my own observation, I think the police overreacted yesterday. Even though the judiciary has ruled they use a particular road. The police action brought the chaos yesterday. I hope they have learnt a lot to properly manage future demonstrations well," he said.
He attributed the actions of the police to the government regarding the repercussions of repetitive demonstrations on authority.
"The economic hardship currently is having an impact on citizens. The more people demonstrate the more the NPP current government becomes unpopular. That is one of the security concerns why even though the police want to be professional, but they are unable," he disclosed.
The group, according to its leaders marched to drum home the high cost of living in the country to government.
By Felix Anim-Appau|Onuaonline.com|Ghana