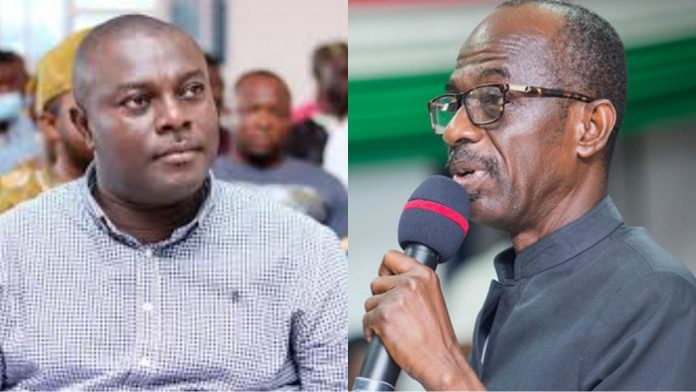 The retained Ashanti region Chairman of the National Democratic Congress (NDC) Augustus Nana Akwasi Andrews says his victory is incomplete because he is disappointed in their General Secretary Asiedu Nketia for campaigning against him.
The Ashanti region Chairman right after he won the elections drew the battle line between himself and Asiedu Nketia as he expressed disappointment because his own General Secretary rallied for his defeat ahead of the elections.
Nana Akwasi Andrews who was retained in the just ended NDC regional executives elections explained though he won the elections convincingly, he is not happy because he couldn't believe his eyes when he saw his own party General Secretary campaigning against him.
He spoke exclusively with Akoma FM's Onyame Ye Obolo after Sunday's election which saw him to victory. He explained that "Asiedu Nketia came here in Kumasi to campaign against me but God is on my side so I won. The NDC in this region has shown love and they have spoken, there were forces working against me but I won."
Few hours to commence NDC's regional executives elections at Baba Yara Sports stadium, General Secretary of the party, Johnson Asiedu Nketia mounted the daze and advised delegates to consider changing incumbent executives if such decision serves the interest of the party.
READ ALSO: 'Vote incumbent executives out if it's in interest of the party' – General Mosquito advises NDC delegates
He further explained that "if you keep doing the same thing you get the same results therefore delegates must know that if it is necessary to substitute some executives for the greater interest of the party you shouldn't be tamed or enticed by the petit cash some aspirants are dashing out."
But Nana Akwasi Andrews took the assertion in bad taste as he decoded the General Secretary's assertion as move to campaign against him. Though he won, he is of the view Asiedu Nketia doesn't like him hence his victory is incomplete.
After the election, the incumbent Chairman Augustus Nana Akwasi Andrews sailed through with 637 votes, Evans Amankwa getting 572 with Yaw Owusu Obimpeh managing some 137 votes.
By Nana Asenso-Mensah|AkomaFM|Onuaonline.com