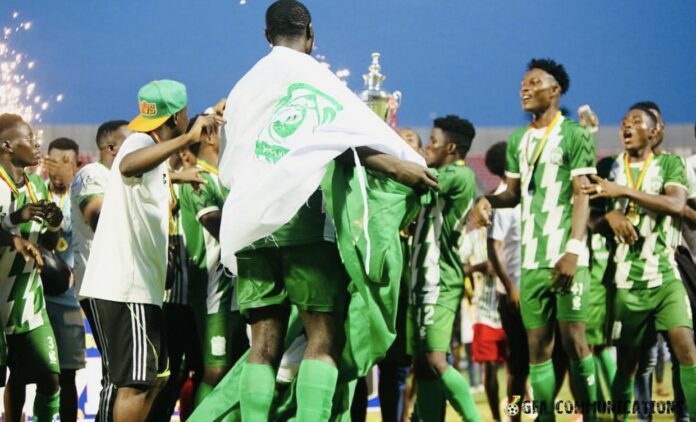 Authorities of Ghana Premier League side Bofoakwa Tano FC have denounced Sunday's hooliganism that resulted in the beating of head coach of Nsoatreman FC Maxwell Konadu and some of his players.
After a 0-0 draw in the Matchday 11 fixture, fans invaded the Sunyani Coronation Park in a fit of anger to assault the technical and playing team of their opponents.
The Bono Region side were seeking a win after recording a draw in their last outing against Bechem United.
But the goalless draw at home did not go down well with the fans, who invaded the pitch right after the blow of the referee's final whistle.
"Bofoakwa Tano Football Club strongly denounces the recent acts of hooliganism displayed by a section of spectators at the Sunyani Coronation Park after our Matchday 11 fixture against Nsoatreman Football Club," a statement on Monday, November 20 said.
According to the statement issued by management, such acts of hooliganism not only tarnish the image of sport but also pose "a threat to the safety of all individuals present".
"As a football club committed to upholding the values of sportsmanship, we emphasize the need for immediate and resolute action to address this issue.
"By this, we are working tirelessly with the Ghana Police Service, Nsoatreman Footabll Club and all relevant stakeholders to bring the perpetrators of this unsporting behaviour to book."
The club renewed its "unwavering" commitment to "promoting the positive values of sport and stands in solidarity with all those who uphold the spirit of fair play and respect in football".
Coach Konadu has since been on admission, receiving treatment.
But his club, Nsoatreman FC, called on the police to, as a matter of urgency, "investigate, arrest, and prosecute the miscreants who brought our game into disrepute by this act of hooliganism today".
"We call on our supporters to remain calm as management will do everything possible to ensure that justice is done as far as this matter is concerned," Nsoatreman FC's statement right after the incident concluded.