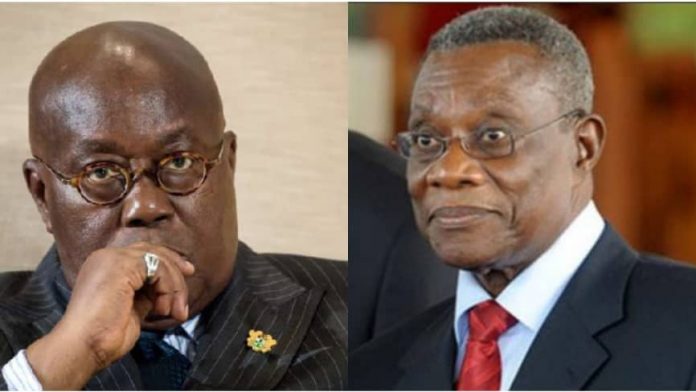 Family of former President, the late John Evans Fiifi Atta Mills, has asked President Addo Dankwa Akufo-Addo to distance himself from the 10th anniversary celebration for their relative in honour of the family.
They have asked Ghanaians to as a sign of solidarity with the family, to also boycott the anniversary.
This is in protest to failure on the part of organisers of the event to invite any of the "proper family" members of late Prof. Mills to observe the celebration.
According to Dr. Cadman Mills, who is the newly installed Ebusuapanyin for the Nkuma Kyereba Twidan family in Cape Coast, the failure to invite the family for the occasion "is an insult to the family, I think it's unacceptable, I think it's shameful. Maybe they invited, the so-called family in Otuam. Me I don't know but as far as Atta Mills's proper family is concerned, nobody has been invited."
He asked President Akufo-Addo to do the family an honour by staying off the event.
"I don't know whether President Akufo-Addo knows that we've been slighted as a family without an invite. If he knows, he would do the family an honour by withdrawing his patronage of this function.
"I'm asking not because I have any power or any right to ask anything. I'm asking to do us the family an honour because such a slight is simply not acceptable," he told Onua TV's Central Regional Correspondent, Kwame Kakraba Friday, July 22, 2022.
Dr. Cadman Mills asked Ghanaians to equally boycott.
"Much more importantly I'm calling on all Ghanaians to show the family solidarity that if you've been invited and you want to go, of course we can't do anything about it.
"But we'll be very happy if you show solidarity for the family to not attend a function concerning the earthly remains of Prof. Mills on the 10th anniversary of his passing away without inviting one single member of the Atta Mills family," he pleaded.
The newly installed head of the family has also indicated they will boycott the celebration.
"Obviously I'm not the one who issued the invitation and I'll not allow any member of my family to go to a function to which they're not invited. I wouldn't want to be embarrassed even though nobody would dare tell me that I have no right to be there. But I'll not attend the function which I'm not invited so I've made everybody know that you can go to Asomdwee Park on the 10th anniversary of the demise of my brother at any other time including 8 o'clock but if you go there you're not part of any function."
By Felix Anim-Appau|Onuaonline.com