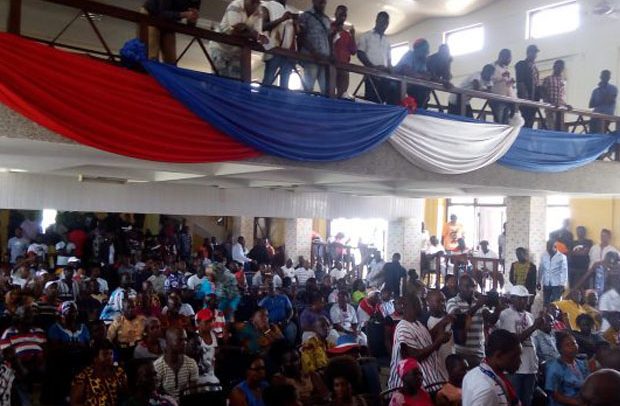 A Senior Research Fellow at the Kumasi Technical University's (KTU) Centre for Social Science Research, Dr. Smart Sarpong, has advised the NPP to adopt the 442 football formation to break the 8.
His comments come after the National Elections Committee of the New Patriotic Party yesterday, June 23, 2022 cleared 48 aspirants to contest for the various national positions.
Speaking on TV3's News @10 Thursday, June 23, 2022, Dr. Sarpong said the delegates should vote for competence rather than affinity.
"Delegates should ignore friends and inducement and look for those who can do the work and select people who can keep the post. Election is like a football match where you need a 442 formation.
"They need a political goalkeeper and defenders. NPP and NDC both have a constant 35% so they should get defenders who can defend that. Then the midfielders who can reach out to the floating votere and strikers who can who can go to the opponents camp and win people," he advised.
READ ALSO: NPP Chairmanship race: 'It is the year of the Stephens' – Dr. Smart Sarpong
He commended the elections committee of the party for qualifying almost all portfolio hopefuls to allow the delegates decide who leads them in the coming years.
"I believe in the principle of let them all go let the delegates decide. Let them face the electorates and see who they choose to lead them," he averred.
Some sources, however, indicate three of the aspirants were disqualified but have the chance to appeal against their disqualification.
Secretary race
Meanwhile, whilst the incumbent Chairman, Freddie Blay is not contesting this year, the current Secretary is going for reelection.
The two 'Js' in this portfolio, Justin Kodua Frimpong, and incumbent John Boadu stand tall according to Dr. Smart Sarpong.
The Senior Research Fellow at the Kumasi Technical University's (KTU) Centre for Social Science Research said his yet to be validated survey with some delegates indicate the only person out of the five other contenders to give John Boadu a real competition is Mr. Kodua Frimpong.
"The fight is becoming a bit straightforward for the two Js. Either John Boadu or Justin Kodua. The two of them are in a clear lead. Per our survey those two stand tall. We'll try and validate the data we have and come out with a clear info," he revealed.
By: Felix Anim-Appau|Onuaonline.com|Ghana