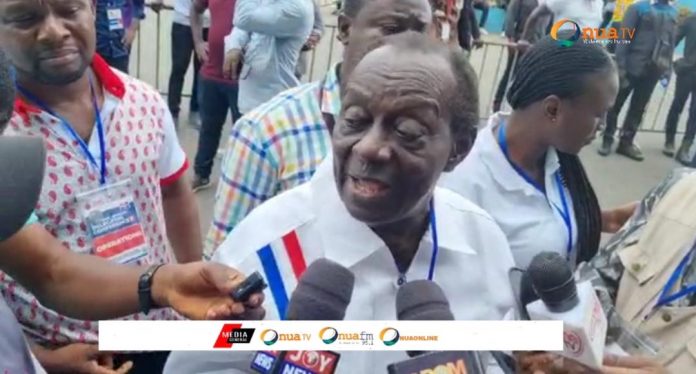 A Council of Elder of the New Patriotic Party (NPP), Dr. Kwame Addo Kufuor is confident breaking the 8 is going to be a reality.
He says despite some mistakes the party has made, he is sure they will retain power if they organise themselves properly.
Dr. Addo Kufuor was speaking to journalists on Saturday, July 16, 2022, at the Accra Sports Stadium where the National Delegates Conference is being held.
"It [Breaking the 8] will be a reality. I'm confident. Few mistakes have been made but the party, well organized, we will win the next elections," he emphasised.
On resolving the internal issues in the party, he said "after the elections we will have new leaders and that is where the problems [Internal party frictions] would be solved."
The former Defence Minister said he has confidence in the aspirants, the reason he has come to the grounds to exercise his duty as a delegate.
"I have confidence in the party and all the people who have offered themselves to be elected. All the people offering themselves for election are very capable. I know all of them. That's why I'm here. I'm a delegate . At my age, I wouldn't be here," he noted."
He was optimistic the NPP will win the 2024 polls.
"The party is going to win [2024 elections] and I'm very confident it's going to be a very good conference."
By Felix Anim-Appau|Onuaonline.com|Ghana