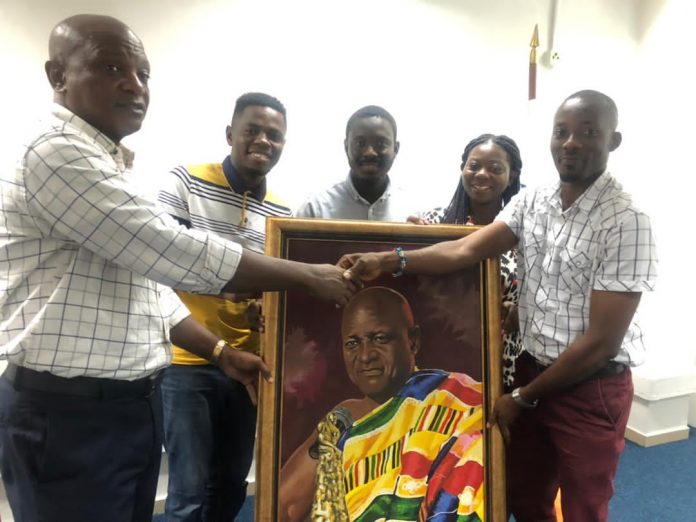 Board Chairman of Accra Hearts of Oak Sporting Club, Togbe Afede XIV has urged supporters of the club to build strong institutional and community-based support groups for the club.
Togbe says even though the club is in its dark days moments, the future he added is bright and needs the supporters to believe in the dream.
He made the call during a visit by Hearts Titanic, a group within the Accra Hearts of Oak S.C.
"The future is bright and I need you to believe in the dream even though we are in our dark moments"
"Try and form support base in your various work places, institutions and communities. Identify fellow 'Heartsman' or woman, get acknowledged in your little groups and regularly patronise our merchandise and the products of our sponsors," he admonished.
According to the group, the visit was to appreciate Togbe specifically for the numerous investments he has brought into the club.
Its president, Michael Nana Appiah, speaking on behalf of the group noted Togbe's contribution in Hearts of Oak is gradually cementing and sculpturing the image of the club as a trail blazer in the sporting fraternity within Africa.
Hearts Titanic further described Togbe as an amalgamation of Fiorentino Perez and Abramovic of Ghana football, with the wisdom of King Solomon, who is down to earth and understands modern football administration, hence, ought to be supported and appreciated.
The Agbogbomefia of Asogli state expressed much gratitude for the gesture, and took the opportunity to enlighten the group on the state of the club.
"Work is progressing steadily at the Pobiman site and the secretariat. The Academy will be one of a kind in Africa. The Pobiman project when completed will have a modern gym, playing fields, basketball courts, swimming pools, tennis courts among other modern sporting facilities which will attract national teams, clubs and cooperate bodies from all over for programmes and camping. Our secretariat which is a four-storey is one of a kind and the commercial center is an eye opener in the sporting circle," he disclosed.
He also indicated that, "we are doing everything humanly, scientifically and morally right to position Accra Hearts of Oak at the zenith of football in Africa, maybe not instantly but definitely."
When asked about the shares, Togbe hinted that, floating of shares will be done very soon and encouraged every true Phobian to purchase as many as possible.
The effective partnership with Hoffeinham and Cincinnati he added, is very strategic.
Hoffeinham is noted to have groomed many top class coaches in Europe and other parts of the world and their scientific philosophy is unparalleled.
Hopefully by the end of the month, Togbe assured that "the reps of the two clubs will be in the country to strengthen our partnership and very soon the supporters will see the fruit of these partnership."
Source: Michael Doe Dzade|Onuaonline.com|Ghana