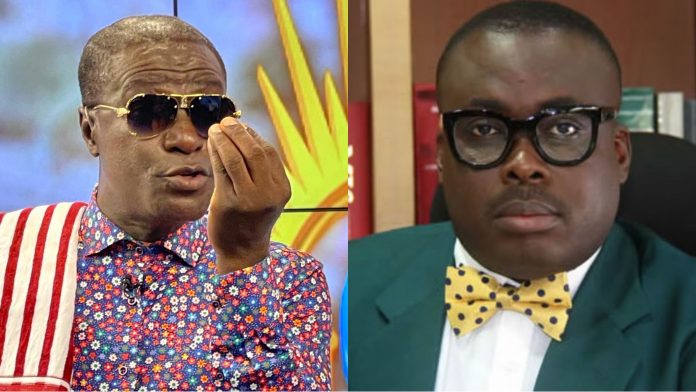 Ghanaians should not be expecting the tussle between two TV hosts, Blessed Godsbrain Smart and Paul Adom-Otchere to abate anytime soon.
Captain Smart, as he is known in the media space took on Mr. Adom-Otchere for picking on Togbe Afede for refunding an ex-gratia paid him to the state.
The Agbogbomefia of Asogli state, Togbe Afede XIV had refunded some GH₵360k paid him as ex-gratia for serving as Chairman of the Council of State between 2017-2020 saying the service was a part time job where he also received salaries and other benefits and therefore doesn't see the need to take an ex-gratia on top, especially with how he personally abhors payment of certain monies in the country.
But host of Metro TV's Good Evening Ghana, Paul Adom-Otchere on the Tuesday, June 7 edition of his show said Togbe's refund of the money was politically motivated. Aside from that, he made other series of allegations on Togbe, saying he was even taking travelling allowance from Ho to Council meetings.
Even though the Asogli State and Togbe himself, through his aide have issued releases debunking some insinuations that garnered traction after the refund, Paul Adom-Otchere decided to use his platform to run Togbe down.
However, Captain Smart yesterday extoled Togbe's action, asking other leaders in the country to emulate. But in his reaction to what Mr. Adom-Otchere said, Smart referred to Paul as an "unseasoned braggart and a miserable chameleon that attracts no colour".
Mr. Adom-Otchere seemed to have not taken it lightly with Captain Smart during his show on the evening of same day.
On the Friday, June 10, 2022 edition of 'Maakye', Captain Smart called for a psychological support for Mr. Adom-Otchere saying his deeds and utterances suggest he needs one urgently.
According to Captain Smart, Mr. Adom-Otchere said Togbe Afede's acceptance to serve on the Council of State was a favour he did Ghana and should have not refunded the ex-gratia. This, Captain said suggests wisdom has eluded the Good Evening Ghana host, making him lose the respect he hitherto had for him.
"It was yesterday that I realised you're so dumb. You have lost the respect I had for you. You're a complete disgrace to the college of law to say that if one accepts an appointment to serve a country, the person is doing us a favour. So are you doing us a favour with your board chairmanship?," he quizzed.
"Are psychiatric doctors in shortage in Ghana? Where is Dr. Kwasi Osei? Go to Metro TV on Thursday and take him [Paul Adom-Otchere] to your facility," he went on to say.
Smart further asked if Paul is doing his employer, Zoomlion a favour for working for him and taking salary.
He further indicated the Good Evening Ghana host is not putting his reasoning ability to use because he has gotten money he never worked for.
Mr. Adom-Otchere, Captain Smart said has a shrunk wisdom and cannot reason through issues just because the NPP government has given him three cars and other goodies, including a house.
"His wisdom has reduced because he has been given cars by the NPP government. If you get money without working for it, then your senses begin to malfunction," he held.
"You're one of the people who have purported to destroy this country and the President should sack you because you are disgracing him," he stated.
Source: Felix Anim-Appau|Onuaonline.com|Ghana