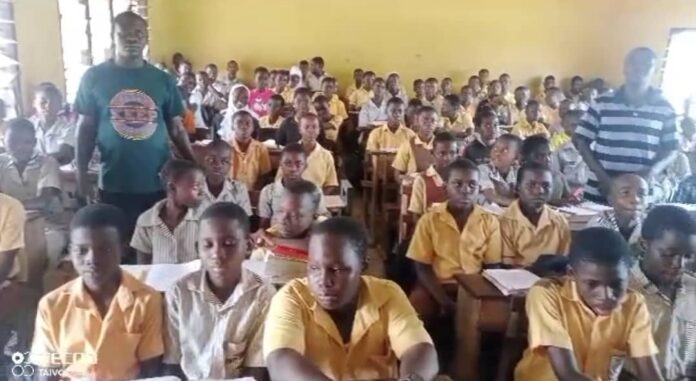 Pupils of Gomoa Nkwantanan D/A Basic School are facing myriad of challenges due to the overcrowded classrooms they occupy.
With the JHS 2 classroom alone accommodating over 185 pupils, more than three children have to occupy a desk with poor ventilation becoming a challenge for them.
The situation, according to stakeholders, has affected academic performance with pupils having to struggle to hear their teachers clearly in class.
Onua News' Nana Yaw Asare's visit to the school revealed that the children have been contracting skin diseases due to the heat associated with the congestion.
READ ALSO: WN/R: Pupils study on blocks in a snake-infested classroom at Fosukrom Nyamebekyerɛ
According to statistics from the school, whilst the JHS 2 classroom occupies almost 200 pupils, those in JHS 3 are numbered over a hundred and fifty (150) with JHS 1 having exactly 150 children.
Speaking to Onua News, a pupil indicated their classroom is not conducive for academic purposes since the struggle for comfort amid the noise in the classroom has been affecting them adequately. Another also indicated their teachers are not able to mark their scripts when they are given exercises due to their numbers.
They are therefore calling on the government to rescue them from the predicament they are facing in their quest to acquire education.
READ ALSO: Witchcraft is a good thing – Spiritualist
Meanwhile, the Odikro of Gomoa Nkwantanan, Nana Obrikafo Gyebu III says, he, together with his elders had to erect another structure to supplement the numbers but was still not adequate to curb the growing population of the school.
Likewise the pupils, the elders are also calling on the government, NGOs and philanthropists to extend their benevolence to them.
READ ALSO: IMF Boss begs G20 creditors to speed up Ghana's creditor committee formation