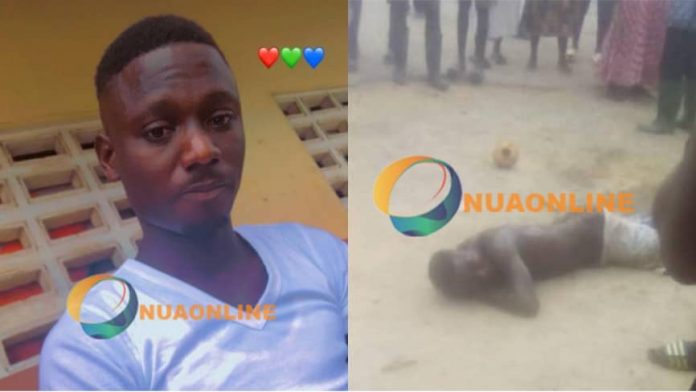 A 28-year-old mechanic from Ekumfi Asaafa, Festus Eduafo, has been lynched to death by a mob at Aburansa near Komenda in the Central Region on the suspicion of being a murderer.
Information gathered indicate the deceased left Accra to visit his child who is with his sister and brother in-law at Aborbeano.
In an interview Onua News' Nana Yaw Asare, Assemblyman for Ekumfi Asaafa, Prince Dankwa, who doubles as a family member of the deceased revealed that, when his younger brother got to Aburansa, the family didn't hear from him again because there was no conversation between him and the family members.
He says the deceased's sister and brother in-law made official complaint at the Komenda Police Station after several search and calling the deceased's cell phone proved his whereabouts futile.
Mr. Dankwa adds a resident called the deceased's mother the next day saying her son has been lynched by Aburansa residents on suspicions of being a murderer.
"A resident called the mother and she asked, where is my son? Then the person said he is a murderer and has been beaten at Aburansa. Then the mother said her son is not a murderer. Then the call ended. After that she called several times but the person didn't respond. So they went to make a case at the police and truly some shots were taken during the incident and clearly you can see that that's our brother lying there so the police are currently conducting their investigations.
"And they said they took him to the palace when they were beating him and the chief made a phone call for a car to come and pick him to the police station. But when the car arrived the youth allow him moved. They threatened to destroy the car so the driver left and he died. As we speak they've not been able to show us where the body is," the Assemblyman continued.
Source: Onuaonline.com|Ghana