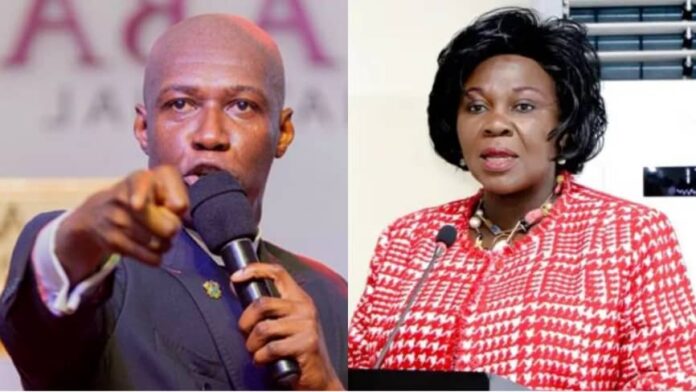 Cecilia Dapaah's stolen wealth has invoked Prophet Kofi Oduro of the Alabaster International Ministry to question the integrity of political leaders who stash ill-gotten wealth in their bedrooms. 
The outspoken man of God whose popularity has pivoted on his consistency with speaking to societal ills did not see the need to let the infamous Cecilia Dapaah scandal slide without taking a bite.
In a video captured on the Prophet's YouTube-streamed Ngosra TV, he expressed concern over the spiraling rate of corruption on the continent, particularly, Ghana, with politicians embezzling resources without recourse to the wellbeing of the citizens.
The man of God was preaching about hell fire and how those whose lives did not please their Maker will be put into eternal damnation, not only for the political greedy but every individual that lives an unpleasant life.
READ ALSO: 'It's a big problem we cannot run away from' – Ken Agyapong comments on Cecilia Dapaah's stolen wealth
Speaking on the Cecilia Dapaah matter, he rhetorically questioned how much money could be hoarded in her room looking at the amount that was stolen without notice.
The preacher popularly known for his 'Woyare!' comment when speaking truth to wrongdoing, extended his rhetoric to how much could be hidden in the rooms of other politicians considering the sum that was found in the bedroom of the Sanitation and Water Resources minister.
He painted a gloomy picture for the state with how thievery, greed and corruption have taken a better part of leadership with dishonesty and wickedness.
He questioned whether President Akufo-Addo could bequeathe any legacy to the state after his tenure of office regarding how he treats corruption cases in his government compared to when he wasn't president. Prophet Kofi Oduro said he was disappointed in the President.
The General Overseer of the Alabaster International Ministry admonished colleague ministers of the gospel to speak against the bad deeds in the country.
READ ALSO: University Professor mentions Black Sherif in Cecilia Dapaah's stolen wealth saga
Cecilia Dapaah, a former minister of Sanitation and Water Resources resigned after a report she made to the police concerning huge sums of monies and properties stolen by two house helps of hers became public.
In a leaked charge sheet from an Accra Circuit Court, an initial details which have since been amended several times stated that an amount of US$1 million, €300,000.00, undisclosed amount of millions of Ghana Cedis with some personal effects have been stolen from her bedroom in a property she owns at Abelemkpe, a suburb of Accra.
The woman is currently being investigated by the Office of the Special Prosecutor (OSP) together with her husband, Daniel Osei Kuffour, for keeping such huge sums of monies in their home.
After embarking on a search in her residence and discovering some more monies, two of her accounts have been frozen with unconfirmed reports saying one of the accounts contain US$5 million and the other, GHC48 million.
The two househelps of the couple are currently being charged before an Accra Circuit Court with five other accomplices for stealing.
READ ALSO: Your integrity will be fully established – Akufo-Addo expresses optimism towards Cecilia Dapaah's exoneration