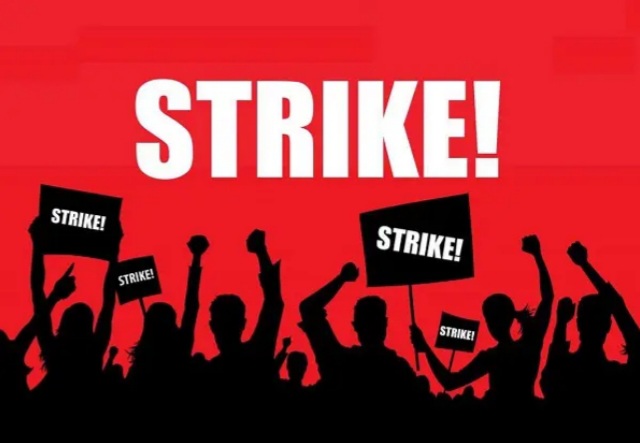 The Colleges of Education Teachers Association of Ghana (CETAG) continues its strike action despite numerous calls by the National Labour Commission (NLC) to call it off.
According to the President of CETAG, Prince Obeng-Himah, until all their grievances have been met, they will remain on strike.
"With Wednesday's meeting, we are yet to meet with our legal team and members in broader consultations before the Association will take an action on it," he stressed.
Mr Obeng-Hima, also hinted that although the Commission has invited them for another meeting on Wednesday, August 9, 2023, the Association is yet to decide whether to attend or not.
READ ALSO: JUSAG threatens indefinite strike over delay in salary adjustment
Speaking to Alfred Ocansey, host of TV3's Ghana Tonight on August 4, 2023, Mr. Obeng-Himah said CETAG received the first letter from the NLC "the very day we declared the strike, that we should appear before the Commission on Wednesday, 3rd August, 2023. But after broader consultations and assessment of our situation, we were so advised to respond in writing, especially because the NLC is a respectable institution that should not be taken for granted. So, we responded in writing, but after that we have not had any other letter from the Commission inviting us over for a meeting."
Mr Obeng-Himah further explained that CETAG did not honour that particular invitation because the National Labour Commission's letter created the impression that CETAG was having a problem with its employers, which was not the case.
Among the conditions which CETAG is complaining about is the 15 days leave and allowances. He noted that, due to the inability of CETAG to accommodate all students in the boarding house, they are divided into two batches, with one batch of students in school at a particular time.
READ ALSO:From Eric's Diary: Why Dr. Mahamudu Bawumia must bide his time
However, the same crop of teachers teach both streams of students, leaving no room for teachers to rest. It is for this reason that CETAG suggested implementation of the IN-OUT-OUT-IN system which could have all students in school at the same time, go on vacation together and enable teachers also have rest.
The Colleges of Education Teachers Association of Ghana (CETAG) issued a press statement on the 31st July, 2023, calling all its members to lay down their tools as they embark on a nation-wide strike starting from the 1st of August, 2023.
According to CETAG, most of the conditions of service that CETAG and the National Labour Commission agreed on have not been implemented by government.
By Clara Boadi Konadu|3News|Onuaonline.com