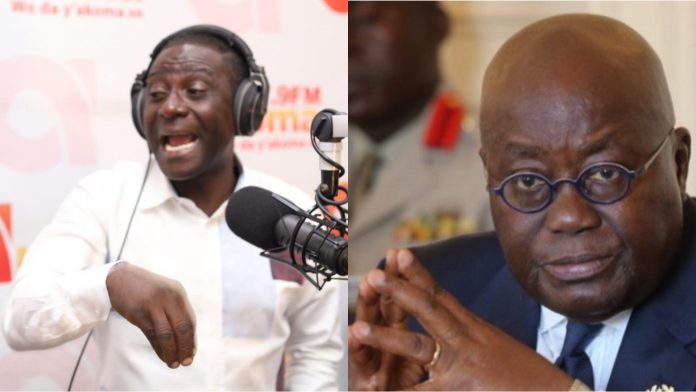 Captain Smart Tuesday morning, November 15, 2022 did not do his usual rants on air as he always does, but rather sought to ask authorities questions.
To President Akufo-Addo, he asked the following 13 questions:
1. Is the Saglemi buyer your brother-in-law or a brother to your former girlfriend?
2. Why is Wontumi saying you're in his pocket and why can't you arrest him?
3. Is Wontumi bigger than you?
4. Why have you not sold the affordable housing in Koforidua and Kumasi but Saglemi?
5. Are you selling Saglemi to pay salaries?
6. Have you investigated the disrespect given to Bawumia by some people at the Jubilee House?
7. Why did you allow Saglemi to rot before selling it?
8. Hawa Koomson said you gave her GH₵200,000.00 for the One Village One Dam, but you have GH₵2 million in papers, why did you release GH₵200k.
9. When will fuel price come down?
10. Is fuel price going to be increased tomorrow?
11. Has part of Saglemi been given out to people already?
12. Collins Dauda is in court because of Saglemi. Government is saying it should be less than GH₵198m. and Collins Dauda priced it GH₵205m. Why then are you selling it GH₵190m?
13. In case there is the need for evidence and the developer has touched things, how would Collins Dauda get it?
Source: Onuaonline.com|Ghana