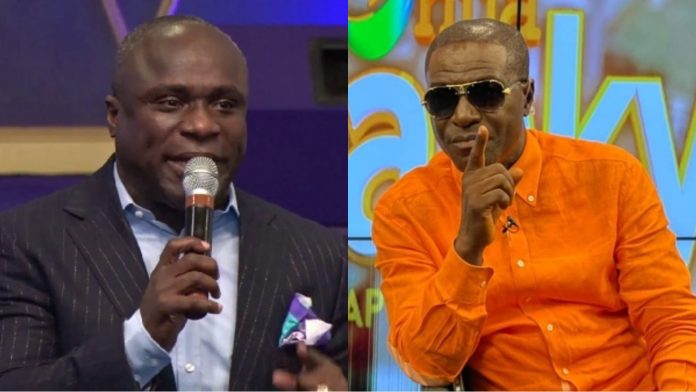 Captain Smart is asking the General Secretary of the Board of Trustees for the National Cathedral, Rev. Victor Kusi Boateng, if he is connected in any way with persons involved in illegal mining or has knowledge of persons who are into the act.
The broadcaster who asked authorities questions on his show Tuesday, November 15, 2022 filed 30 questions for the founder of Power Chapel Worldwide.
Below are the questions:
1. Do you own galamsey sites?
2. Do you know any persons involved in galamsey in your church?
3. Have you employed people to work in a galamsey site before?
4. Have any galamseyers been on any site belonging to you?
5. Do you own a mining certificate?
6. Have you done mining before?
7. Has someone given you money before whom you know the person is into galamsey?
8. How many cars do you have and when did you buy them?
9. Where is the Cathedral's money?
10. Have you been to any region where galamsey is ongoing?
11. Have you sacked any driver of yours recently? If yes, what's his name and what did he do?
12. Are we building the National Cathedral or not?
13. When are we completing the National Cathedral?
14. How much was the stones we transported from Israel to Ghana and how much did we spend on it?
15. Who signed the check to pay the monies? If there was physical cash, who paid and who received it? Who was supposed to receive it and did he get it or not?
16. If Ghana was a company your father left you and over $300m has been spent on a project and there was nothing to show for, would you be happy?
17. What benefit have you gotten from the National Cathedral and how much are you paid a month [as Secretary to the Board of Trustees]?
Source: Onuaonline.com|Ghana