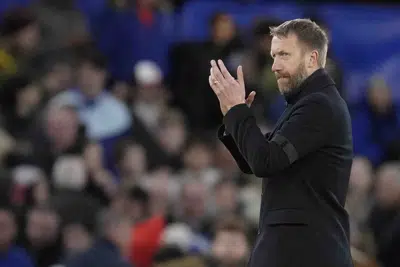 Chelsea manager Graham Potter says he and his family have received death threats in the wake of the team's poor form.
Potter said Friday he had been targeted by an anonymous email account.
Potter, who has said previously that he believes he has the hardest job in football, spoke of the toll that recent months have taken on him personally, and bullishly rejected accusations that a calm demeanor in the face of adversity means he does not care about the club.
READ ALSO: Chelsea board consider Thomas Tuchel return 'impossible' as pressure mounts on Graham Potter
"People have a perception I don't care — what's that based on? How do you know?" he told a news conference ahead of Chelsea's Premier League match at Tottenham on Sunday. "You could ask my family how life has been for me and for them.
"It's been not pleasant at all. I understand supporters go home and they're annoyed because the team aren't winning. But I assure you, my life for the last three or four months has been fairly average.
"I've had some not particularly nice emails come through, that want me to die and want my kids to die. That's obviously not pleasant to receive. If you've been asked for four months if you're under pressure because (the media) need to sell stuff – what do you expect, in the end?"
Chelsea has won just two of its last 14 games despite huge spending sprees in the last two transfer windows. The team is in 10th place in the 20-team Premier League.
Source: AP NEWS