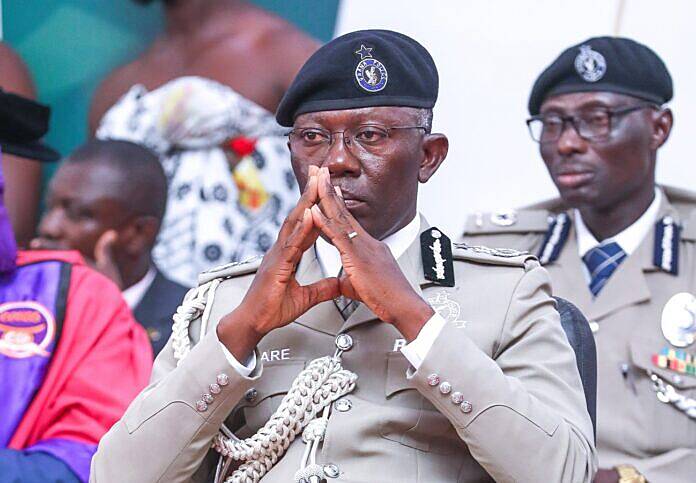 When COP Alex Mensah appeared before the parliamentary ad-hoc committee probing the leaked audio allegedly masterminding the removal of the Inspector General of Police (IGP), he said Dampare has poorly managed the Service than any other leader they have had.
This assertion, was corroborated by his colleagues who were equally implicated in the matter, with Supt. George Asare opting to make his comments on Dampare's performance in-camera.
But like many other Ghanaians, Professor Ransford Gyampo thinks otherwise. Many are of the view that the responsibility of the police is to serve the citizens and once the people are okay, there is no cause for blames.
The University of Ghana Professor says the appointment of COP Dampare as Ghana's IGP is the most credible appointment in the Akufo-Addo administration and should be applauded by all.
According to him, the appointment will go down in the country's history as one that was firm and should be applauded "whether you like it or not."
His comments come on the back of his call for the reshuffle of the Chairman of the 7-member committee investigating the leaked tape suspectedly planning to remove the IGP.
He was speaking on The KeyPoints with Alfred Ocansey Saturday, September 16, 2023.
"I'm reliably informed that the President thought through things properly in appointing Dampare and as Suhuyini said, he may have issues with Akufo-Addo but the appointment of Dampare, this is one of the fantastic appointments that President Akufo-Addo has made.
"He will go down as somebody who has made a very firm decision in determining who must lead our police administration credibly. It is something that whether you like it or not, we must applaud," he lauded.
He continued that, the President "has done very well in bringing Dampare and that is his responsibility to ensure that he continues to protect Dampare to be able to deliver effective policing for Ghana, not for the NPP, not for NDC but for Ghana."
Background
The Speaker of Parliament, Rt. Hon. Alban Sumana Kingsford Bagbin constituted a 7-member committee to probe a leaked tape which contained voices of senior police officers allegedly plotting to remove the Inspector General of Police (IGP), Dr. George Akuffo Dampare, from his position.
The audio, which was recorded in the Accra office of a former Northern region chair of the governing New Patriotic Party (NPP) says the IGP's actions is a possible hindrance to the party's chances of the breaking the '8', the reason he should be ousted for a party man to be reinstated to help champion their cause.
A committee was composed to look into the matter with Mr. Atta Akyea as chair. However, Prof. Gyampo thinks he has not been able to discharge his duties adequately with fairness and should be changed.
READ ALSO: Seven takeaways from IGP Dampare's meeting with committee probing leaked audio