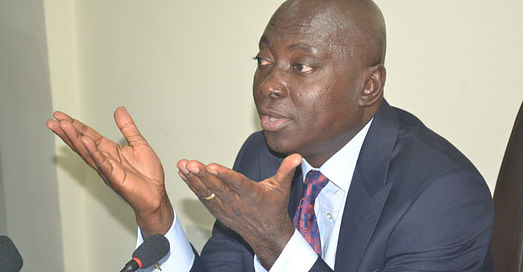 Prof. Ransford Edward Van Gyampo of the University of Ghana Political Science department has explained why the Chairman of the committee probing the 'Dampare leaked tape' must recuse himself.
According to the Professor, Samuel Atta Akyea, Member of Parliament for Abuakwa South who is chairing the committee is rather serving as a lead counsel for those implicated in the matter.
Speaking on The KeyPoints Saturday,  September 16, 2023, Prof. Gyampo said it is not Atta Akyea's birthright to chair the committee, and it would be better he stays off the probe to safeguard the integrity of the ongoing probe.
"It appears that rather than being a Chairman, he is playing a certain surreptitious role as a lead counsel for those who are making the allegations and those who are looking for the opportunity to serve as IGP so that they can subvert the will of the people and I think that this is what I've seen.
"I think that he does a lot of diservice to Ghana by sitting as chair of this committee and so it is not by force to chair this committee," he was emphatic.
He was emphatic to say that lawyer Atta Akyea has taken sides to support the agenda of the persons implicated in the audio.
"I am accusing him of taking sides and so he should recuse himself. He doesn't need to chair this committee," he noted.
Speaking further, the President of the University Teachers Association of Ghana (UTAG), UG-Chapter, asked the Speaker of Parliament to as a matter of urgency change Mr. Atta Akyea as chair of the committee if he refuses to recuse himself because he lacks credibility.
"The Speaker must make a reshuffle of who chairs the committee. I don't see him as a credible person to check the sitting. It is not by force," he reiterated.
Background
The Speaker of Parliament, Rt. Hon. Alban Sumana Kingsford Bagbin constituted a 7-member committee to probe a leaked tape which contained voices of senior police officers allegedly plotting to remove the Inspector General of Police (IGP), Dr. George Akuffo Dampare, from his position.
The audio, which was recorded in the Accra office of a former Northern region chair of the governing New Patriotic Party (NPP) says the IGP's actions is a possible hindrance to the party's chances of the breaking the '8', the reason he should be ousted for a party man to be reinstated to help champion their cause.
A committee was formed to look into the matter with Mr. Atta Akyea as chair. However, Prof. Gyampo thinks he has not been able to discharge his duties adequately with fairness and should be changed.
READ ALSO: Seven takeaways from IGP Dampare's meeting with committee probing leaked audio