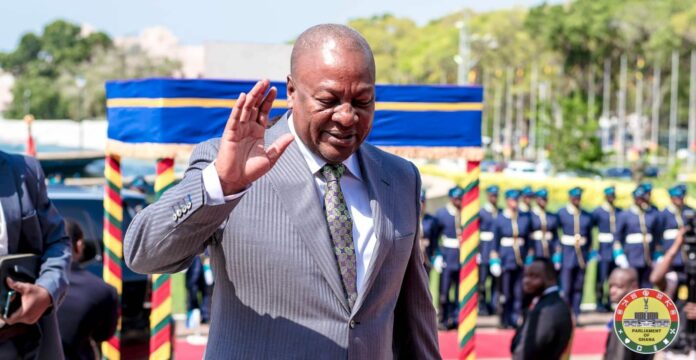 Parliament's insistence on the inclusion of the guarantor system in the limited voter registration has been lauded by former president John Dramani Mahama after observing the process to learn some constraints characterising the exercise so far.
According to the 2024 flag bearer of the NDC, many young adults he interacted with during his visit to five district offices of the Electoral Commission (EC) in Accra Friday, September 15, 2023, revealed they do not possess the Ghana card.
He explains the condition would have seriously affected the registration if the EC's insistence on using the Ghana card as the sole document for the registration had been assented by Parliament.
"Most of the people who have turned 18, those people who are between 18 and 21, I've spoken to many of them and they don't have the Ghana card. It means that if we had insisted on the Ghana card as the only means of registration it means all these young people I've seen would not have been able to register. Because all of them are using the guarantor system and I ask them do you have the Ghana card and they say no, we don't have so I think Parliament was right to insist that the guarantor system must be used," he indicated.
He, has, however, urged the NIA to live up to its game to ensure those who lack the identity card get it so people would not be disenfranchised should the Ghana card become the sole proof of identity for the registration in future.
"And I believe that the National Identification Authority should up its game so that so that a lot of more of our people can get access to their cards so that in future if we decide to go solely with the card, it won't disenfranchise any person," admonished.
Meanwhile, he has reiterated his call to the EC to expand the registration centres to ensure those who cannot afford to travel to far places to get access.
"…And I'll appeal once again to the Electoral Commission, now that we've seen the challenges, it probably it's not too late to open the centres at the electoral areas because it would be easier for people to travel…so I think we should still reconsider this issue about registering in the electoral areas," he said.
He, however, urged the Commission to, in the meantime, "resolve the bottlenecks that we are seeing here" which includes the congestion at the centres, poor network system among others.
READ ALSO: 'What is this apology all about?' – Dome Kwabenya NPP Secretary asks Adwoa Safo