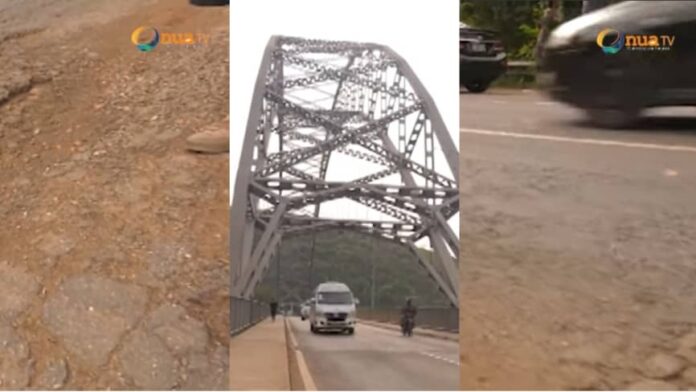 Danger is looming on the Adomi Bridge at Atimpoku in the Asuogyaman district of the Eastern region due to a pothole on the Juapong – Atimpoku stretch of the world's renowned bridge.
Apart from the potholes, there are cracks on the same portions of the road which could damage the bridge if not worked on.
This came to light when Onua News Team visited the Adomi Bridge.
READ ALSO: New tax bills were more important than my life – Nanton MP
It was observed that the drivers who join the bridge from the Juapong stretch would veer off the road when they get to where the pothole is and this could lead to head-on collision.
Some of the drivers who ply the road said the danger that the pothole poses to them are enormous.
They explained the potholes have been there for years without authorities attending to it.
The Asuogyaman District Chief Executive, Samuel Kwame Agyekum when contacted explained that, even though the bridge is not under their jurisdiction, the Assembly has taken the matter up.
READ ALSO: Akosua Agyapong receiving alleged death threatening messages for criticising GHAMRO
He explained the bridge is under the Ghana Highway Authority but the Assembly has written to them to fix the pothole.
Mr. Agyekum assured that he has not heard anything from the Eastern Regional Highways and would therefore follow up to ensure the problem is fixed.
The DCE said because the bridge is situated in their jurisdiction, they [Asuogyaman District] would be the first casualty in case of any accident on that stretch.
READ ALSO: Kojo Antwi's father to be laid to rest on May 6 at Obo Kwahu
By Kweku Antwi-Otoo|OnuaNews|Onuaonline.com