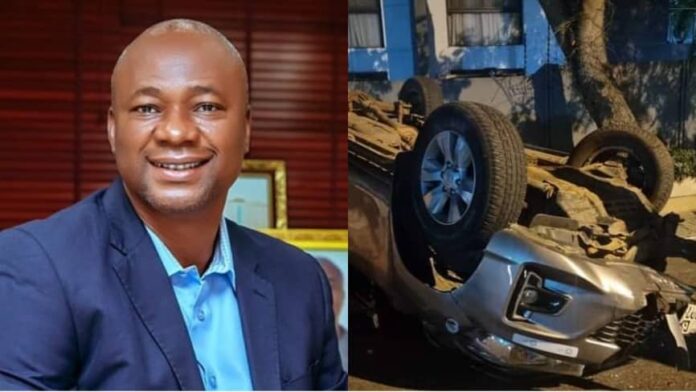 The Member of Parliament for Nanton, Mohammed Tufeiru, has said his life was less important to him than voting for the approval of the new revenue bills that were before Parliament March 31, 2023.
On his way to Parliament to cast his vote for the bill approval last Friday, the Nanton lawmaker was involved on a near-fatal which got him a cut on top of his left eye.
But despite the accident which nearly took his life, the MP chose to go to Parliament to vote for the approval of the bills before seeking medical care.
READ ALSO: National Cathedral: Ablakwa hints of judgement debt accumulation a year after contractor left site
He has explained that he took such decision because he wanted to get the bills which were much more important to him than his life approved.
The legislator has also.admitted he was driving on top speed against traffic regulations which caused the accident.
He told Accra-based Citi FM Monday, April 3, that he could not even realise his clothea were stained with blood until after he had voted.
Asked whether he considered his life less important than the passage of the tax bills, Mr Tufeiru answered "yes, you [can] say that."
READ ALSO: Private Lotto Operators kick against plans to outsource 5/90 lottery
He also admitted that he was cleaned up and stitched up in Parliament's washroom before he was allowed to vote for the passage of the three tax bills.
Parliament last Friday approved four financial bills presented by the government aimed at generating approximately 4 billion Ghana Cedis annually to boost domestic revenue mobilization.
They are the Excise Duty Amendment Bill 2022, the Growth and Sustainability Levy Bill 2022, the Ghana Revenue Authority Bill 2022, and the Income Tax Amendment Bill 2022.
The percentages for the various taxes have increased, and it now covers more products.
The move by the government is essential as part of the moves in facilitating the Board Approval for the $3 billion International Monetary Fund (IMF) Programme staff-level agreement.
The measures are part of the government's efforts to meet the IMF's criteria to qualify for a bailout.
The Excise Duty (Amendment) Bill, which will impose a 20 per cent tax on cigarettes and e-smoking devices, as well as sweetened beverages, spirits and wines, is projected to rake in about GH¢400 million annually, while the Income Tax (Amendment) Bill will generate about GH¢1.2 billion.
READ ALSO: C/R: Notorious thief lynched for stealing plantain at Ajumako Bisease
The Growth and Sustainability (Amendment) Bill, which will replace the National Fiscal Stabilisation Levy that currently imposes a levy on companies operating in selected sectors, is also projected to raise about GH¢2.2 billion.
By Felix Anim-Appau|Onuaonline.com