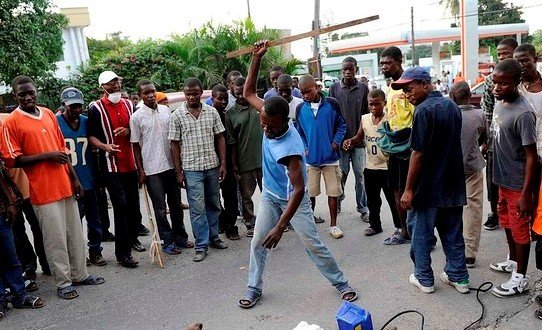 For stealing plantain at Ajumako Bisease in the Ajumako Enyan Essiam district of the Central region, a 40-year-old man was lynched. 
After gaining notoriety in plantain pilferage in the area, the deceased, Kwame Essel, was eluded by luck when the owner of the plantain he was stealing with another was approaching.
His accomplice managed to escape leaving him behind at their second expedition for the day.
The duo had engineered the idea to steal the foodstuffs and sell to a buyer in the early hours of Sunday, February 12, 2023.
The prospective buyer, sensing foul rejected the items after failing to disclose the source of the foodstuffs.
READ ALSO: C/R: Dog barks to cause arrest of ECG cable thief
Reports indicate the thief sold the plantain to some strangers who had come to the town for a funeral.
Around 4:30pm same day, he went to the same farm to steal again but was unfortunately caught.
He was then made to carry the plantains on his head and paraded through the principal streets of Ajumako Bisease while being beaten.
The suspect was beaten to pulp and was rushed to the Ajumako Bisease Polyclinic for treatment, but was pronounced dead on arrival.
Essel is reportedly on police wanted list after several complaints were made about him.
The Ajumako Bisease Police is currently conducting investigations into the issue.
No arrests had been made as at the time this report was being filed.
The deceased left behind a wife and two children.
Source: Onuaonline.com|Ghana