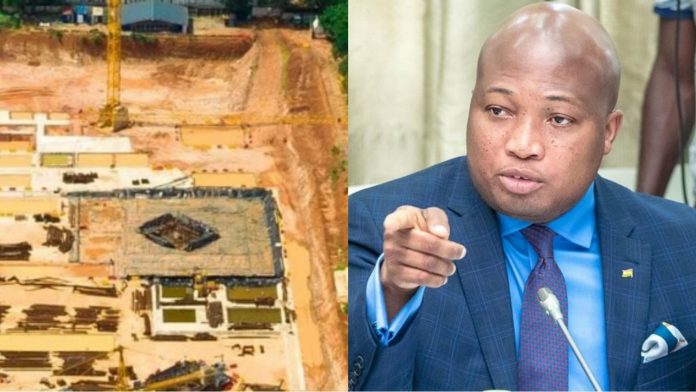 Lawmaker Samuel Okudzeto Ablakwa has disclosed the cost incurred so far on "the most expensive pit in the world" is still adding up a year after works on the National Cathedral project was suspended.
The North Tongu Member of Parliament has revealed there are some judgement debts to be paid the contractor, RIBADE Company Ltd.
Exactly a year after the contractor left site for lack payment of funds, the MP says some more millions have been accumulated to be paid by the state as "abortive and rework costs" as a result of the project suspension.
"Today marks exactly one year since the main "National" Cathedral contractor, RIBADE COMPANY LTD abandoned the project and terminated its agreement with workers due to lack of payment despite government's massive unconstitutional withdrawals.
READ ALSO: National Cathedral: Illegal withdrawals continued from accounts despite suspension of project – Okudzeto hints
"RIBADE left behind what has become infamously known as the world's most expensive pit after government spent some GHS339,003,064.86 (US$58.1million) of our taxes.
"But that is not the full story about this national catastrophe. Many Ghanaians will be even more outraged to discover that per the contract between government and RIBADE, this one year suspension comes at considerable cost to the already suffering Ghanaian taxpayer. RIBADE is now entitled to "Abortive and re-works costs due to main contractor suspension" and other "Standing time claims" which experts say run into additional millions of US Dollars. (See summary of contract obligations attached)," a tweet the MP made contained.
According to him, "for a country declared bankrupt, defaulting on its loans and struggling to pay for childhood vaccines, it is both reckless and unconscionable that President Akufo-Addo refuses to abrogate all these costly cathedral contracts (particularly that of RIBADE and David Adjaye) so we can salvage what's left of the economy he has terribly mismanaged by championing castle-in-the-air projects such as the "National" Cathedral project which overall will cost suffocating Ghanaian taxpayers over US$1billion."
READ ALSO: Duncan-Williams, Eastwood Anaba want National Cathedral suspended, accounts audited
Mr. Ablakwa has therefore advised the government and the Board of Trustees of the Cathedral to "act NOW. One year of remarkable inactivity is enough proof that Akufo-Addo's "priority of priorities" is going nowhere."
Today marks exactly one year since the main "National" Cathedral contractor, RIBADE CO. LTD. abandoned the project & terminated its agreement with workers due to lack of payment despite govt's massive unconstitutional withdrawals.

They left behind the world's most expensive pit pic.twitter.com/O2QnZJ4d71

— Sam Okudzeto Ablakwa (@S_OkudzetoAblak) March 14, 2023
(GHS339million or US$58million) but that's not the full story. Suffocating Ghanaians now owe RIBADE some millions of US Dollars in "abortive & re-works costs due to main contractor suspension & standing time claims."

It's time to abrogate all these costly cathedral contracts. pic.twitter.com/v9rEwPl5TS

— Sam Okudzeto Ablakwa (@S_OkudzetoAblak) March 14, 2023
By Felix Anim-Appau|Onuaonline.com