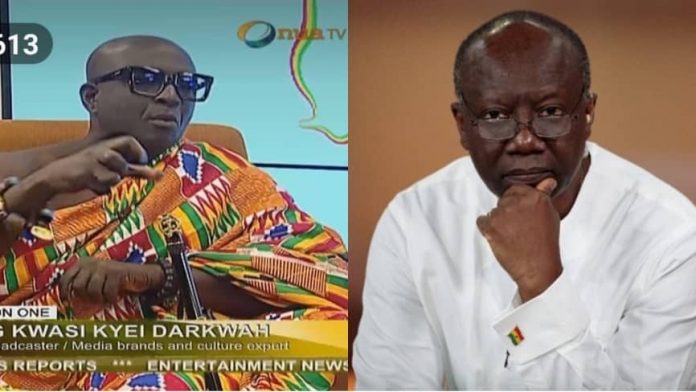 Ace broadcaster and Media Brands expert, King Kwasi Kyei Darkwa, aka KKD is asking the Finance minister the level of his integrity following his involvement in conflict of interest which is dwindling the state coffers.
The man who made public how the Finance minister is milking the nation by taking almost 10% of every loan taken by the state as financial advisor to the government is still expressing worry over the state of the economy and how fast Ghana's debt is rising.
As a man who claims to have integrity, the culture expert expected him to have bowed out even before calls became rife across the country for his resignation or sacking.
He reminded Mr. Ofori-Atta of some comments he made 10 years ago on integrity deficit when he was in opposition, asking Ghanaians to eschew timidity and make clear their reservations about leadership.
READ ALSO: 'Any fool can speak truth to the poor and needy but only the wise can speak truth to power' – KKD responds to Adom-Otchere, others
Ken Ofori-Atta, then Chairman of the Databank Group, charged Ghanaians, including the youth, teachers, NGOs, journalists and clerics to stop being quiet and neutral in the search for justice and show some courage and outrage in the face of attacks on integrity in Ghana's democracy and the way the nation's finances were being mishandled.
He made the call whilst delivering the second of the William Ofori-Atta (Paa Willie) Institute for Integrity Lectures at the British Council Hall on March 12, 2013.
Speaking on the theme; 'Ghana's future: Integrity, Rights, and Responsibilities of Citizens', Mr Ofori-Atta used the seemingly neutral reaction of important bodies to the then election dispute at the Supreme Court and the mishandling of the economy which according to him led to a record GH₵8.7 billion fiscal deficit to illustrate his point about the worsening integrity deficit in the Ghanaian society.
He accused clerics, civil society groups, journalists, Ghana's middle-class and other important organisations, such as the National Peace Council and the Ghana Bar Association of "cowardice and hypocrisy" and reminded the nation that it was this kind of culture of silence in the face of impunity that forced a young Jerry John Rawlings and his colleagues to stage their revolution of June 4, 1979.
"For me we can cause a revolution with our lack of outrage, with what Rawlings did in 1979, you will realise that this is not merely hyperbolic," Mr Ofori-Atta had cautioned.
READ ALSO: Check KKD's rationale for stating 'The Death Sentence' for politicians as his 10th commandment
Speaking with Captain Smart Wednesday, March 15, 2023, Mr. Kyei Darkwa was stunned Ken Ofori-Atta is refusing to resign despite his cousin's (President Akufo-Addo) adamance to sack him despite calls from majority of Ghanaians for his resignation including MPs from his own party.
"Ken where is your integrity? You and Akufo Addo asked us to talk but today you want to tell us you don't know what conflict of interest is? How long are you going to spend the money?" he questioned.
By Felix Anim-Appau|Onuaonline.com