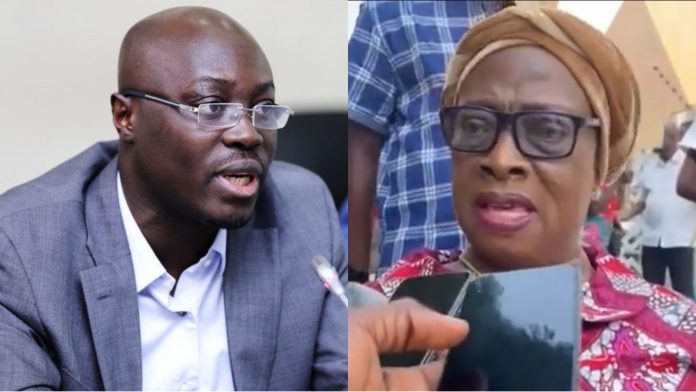 The Minority Leader Dr Cassiel Ato Baah Forson has said it is disheartening to see pensioners picketing at the Ministry of Finance to get their funds exempted from the Domestic Debt Exchange Programme (DDEP).
He has assured the agitating pensioners of the legislature's readiness to represent their interest as they summon the minister to the House to answer questions.
"It is disheartening to see our dear pensioners including a former Chief Justice picketing at the MOF over the domestic debt restructuring.
"I wish to assure her and the rest, parliament is dragging the Finance Minister before us next week and we will represent their interest fully," the Ajumako Enyan Essiam MP tweeted.
READ ALSO: Why force pensioners at gunpoint to agree with you? 'Ungagged Sophia Akuffo quizzes gov't
Madam Akuffo has rejected the inclusion of pensioners in the in the debt restructuring of the government.
Speaking to journalists after joining a group of pensioners to picket at the Ministry of Finance in Accra Friday, February 10, 2023, she said "these are all people who have worked, they have worked very hard, they could have left the country when others were going but they stayed, they worked for the nation.
"We have had our ups and downs. A lot of us were from generations where we were encouraged to save for tomorrow and all that. We have been through times where all your savings become nonsense because of some government policies, then over the years, bit by bit, people have become more confident in the economy and investments.
"Quite a number of people here today, when they retired last two years they have put everything into government bonds, it is a contract and now all of a sudden, you virtually want to, at gunpoint, force them to agree with you that the repayment of the yield of their investment should be as you dictate it. Why?"
She further criticized the government for not being able to account for the borrowings done over the years.
"Why are we in the mess? Nobody has fully explained to us, yes we took debt, what was it used for? and where is the accountability? Exactly what was it used for? You are not telling us about how you are going to be able to make things better but just that 'help me and I help you', no, you help yourself first, let me see you doing something serious because we have seen these sorts of things too many times.
"I am over 70 years now, I am no longer government employed, my mouth has been ungagged and I am talking and I am saying that we have failed and it is important that the elderly should be respected. I find this wicked, I find it disrespectful, I find it unlawful, I find it totally wrong."
Source: 3News.com|Ghana