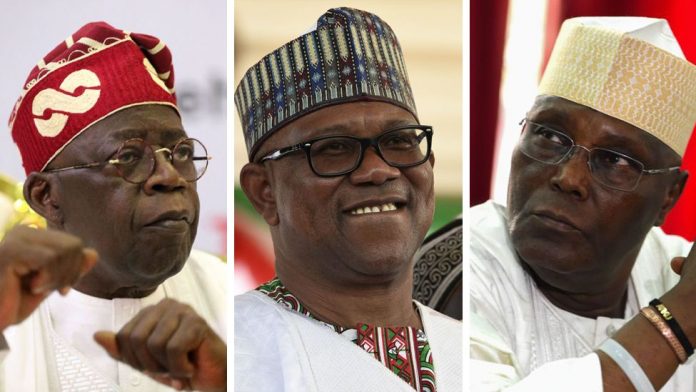 The US government and some other countries have warned their citizens in Nigeria to be wary of the recent disturbances in the country pending the upcoming elections.
The African giants would be going to the polls Saturday, February 25, 2023 to elect a new President for the next four years.
Incumbent Mahamadu Buhari would not be contesting after serving his two terms of office as mandated by the constitution.
There have been series of protests against the government as banks have been instructed not to issue out monies beyond a certain limit to the public, creating a lot of tension.
READ ALSO: Walking from Ghana to Nigeria: Young man seeks security, financial support to embark on ancestral journey
This comes as a result of a new monetary policy implemented by the central bank.
Speaking with Captain Smart on Maakye Tuesday, February 21, 2023, Jesusegun Alagbe, a journalist in Nigeria indicated a lot of factors have necessitated the mayhem which will likely affect the outcome of Saturday's exercise.
The incumbent All Progressive Congress (APC) seem to have lost the grounds for the elections following the teeming economic hardship confronting especially, the youth.
The insecurity in Nigeria according to Jesusegun has reached its alarming levels with killings amid the monetary policy making life unbearable for people.
He adds people also have to queue to buy fuel just as they do to withdraw few notes of the naira.
Mr. Alagbe reports the Labour Party's Peter Obi seem to have won the hearts of many citizens following Atiku Abubakar's indifference in the killing of a Christian youth in Northern Nigeria.
The government, he reported further, has done a little about the "many youth [who] have been killed, kidnapping, banditry" which have gone on over the years.
Atiku had been Vice President for Nigeria from 1999 to 2007 under Olusegun Obasanjo before harnessing the interest to contest the Presidency himself.
He is in keen contest with Peter Obi and Bola Tinubu.
READ ALSO: Jollof Rice: UNESCO names Senegal as true home of delicacy over Ghana and Nigeria
By Felix Anim-Appau|Onuaonline.com