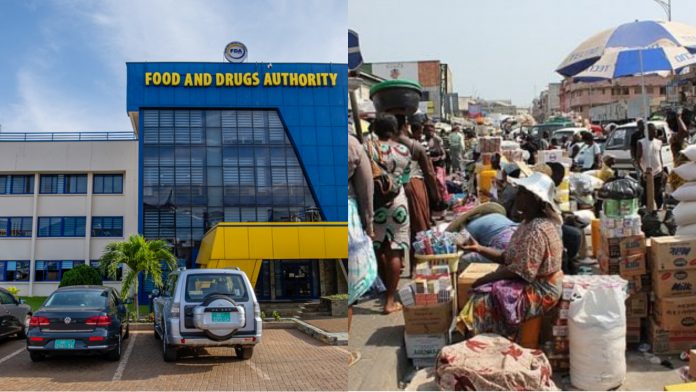 The Food and Drugs Authority (FDA) has cautioned the public to be wary of products they patronise on the market during the festive season.
The Authority says some vendors sell unwholesome products to unsuspecting customers during Christmas which can be harmful to their health.
Central regional Director of the FDA, Francisca Obeng, has been telling Onua News' Central Regional Correspondent, Kwame Kakraba, the need for consumers to be careful especially when patronising 'buy one get one free' products.
READ ALSO: Consumer Protection urge Ghanaians to stop patronising businesses who have refused to reduce their prices
She says the move is to curb food poisoning which usually occurs during Christmas seasons because of poor standard commodities coming in good packages at cheaper prices.
She assured their men will be on the lookout throughout the period.
"Our team of taskforce are on grounds making sure people buy good products that are safe," she indicated.
She further counseled the public to avoid products which do not have inscriptions clearly labelled in English Language since they are not goods approved by the FDA.
"When buying particularly 'buy 1 get 1 free' labelled  products, you must always look out for the expiry which are typically the dates that guarantee the product's safety," she cautioned.
Ms Obeng used the opportunity to tell the public to purchase food from eateries that have acquired "Food Hygiene Permit" from the Authority, thus Food hygiene permit for restaurants and street hygiene permit for food vendors.
According to the FDA, the permit requires that the Authority inspects the work environment of the vendor to ascertain its hygienic nature, the personal hygiene exhibited by workers around the food as well as the condition of groceries used to cook and sell to customers.
She advised consumers not to buy from outlets without the FDA permit.
Source:  Onuaonline.com|Ghana