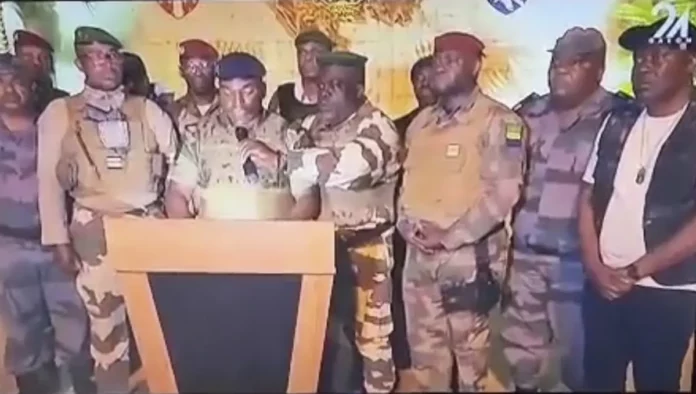 The military in Gabon has declared its election that announced President Ali Bongo winner for a third term fraud.
The Army officers announced on the Central African state's national television that they have taken power, annulling the presidential poll that gave Ali Bongo a win.
According to the electoral commission, Mr. Bongo won just under two-thirds of the valid votes cast of the "fraudulent" election as described by the opposition.
The Bongo family has ruled Gabon for the past 53 years, with Ali Bongo's ousting ending the over five decade authority by a single family.
Appearing on national television Wednesday, August 30, 2023, were 12 soldiers who said the presidential results has been annulled, dissolving "all the institutions of the republic".
READ ALSO: 'Dzi wo fie asɛm' and respect the sovereignty of Niger – Akufo-Addo told to use funds for ECOWAS standby force to support Ghanaians
They also said the country's borders had been closed "until further notice".
Speaking on Gabon 24, the nation's TV channel, one of the soldiers noted that "we have decided to defend peace by putting an end to the current regime."
According to the soldier, their action stems from the "irresponsible, unpredictable governance resulting in a continuing deterioration in social cohesion that risks leading the country into chaos".
Journalists from the Reuters and AFP news agencies reported that sounds of loud gunfire could be heard in the country's capital, Libreville, following the broadcast.
The government has not responded to the announcement by the military yet.
READ ALSO: 'We need a legal coup d'etat to oust nonperforming politicians' – EFL Spokesperson
Last Saturday's election, just like previous ones, was clouted with breaches on free and fair polls which undermined the process.
Whilst some candidates who had withdrawn from the poll still had their names on the ballot papers in some places, many did not bear the name of the main opposition candidate, Albert Ondo Ossa, according to reports.
Among the uncertainties that characterised the poll was the prevention of foreign media from covering the election according to a group, Campaign group Reporters without Borders.
A curfew was placed alongside the suspension of internet access over security concerns when the polls closed on Saturday.
Also, controversial changes were made on the voting papers few weeks to the election, affirming the opposition's description of his previous victories as fraudulent.
Ali Bongo took over from his father as Gabon president when the latter died in 2009.
A coup was first attempted at him in 2019 which saw revolting soldiers sent to prison, after calls had come for him to step aside the previous year for suffering stroke which which sidelined him for almost a year.
READ ALSO:Niger coup d'etat: 'If democracy is a legitimate process, then this coup has been legitimised by the people' – Nigerien political analyst