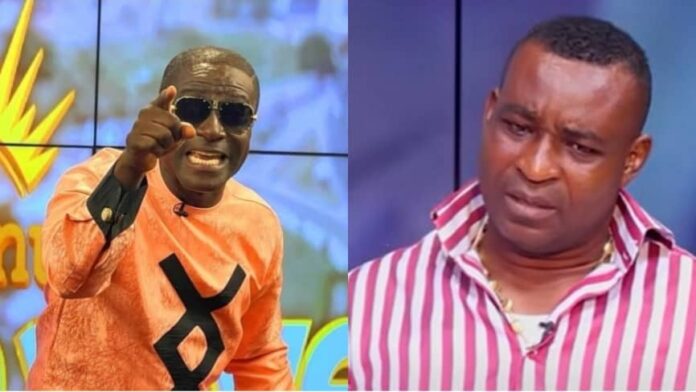 Host of Maakye on Onua TV/FM Blessed Godsbrain Smart known in the media space as Captain Smart has said he is surprised the minister of National Security has not arrested Wontumi.
According to him, the Ashanti regional chair of the New Patriotic Party (NPP), Bernard Antwi Bosiako, known as Wontumi, has indulged in illegal mining which is known as galamsey but has not been arrested.
Wontumi's Akonta Mining Company per documentations from the Minerals Commission and the Ministry of Lands and Natural Resources is involved in galamsey and has been cautioned by the above institutions to desist from it.
Captain Smart says what is more surprising is when President Akufo-Addo mounted a defence for Akonta Mining which is on trial on illegal mining, making many describe his action as prejudicial.
READ ALSO: Commissioner of CHRAJ affirms report findings of Frimpong-Boateng's involvement in galamsey 
READ ALSO: Presidency rubbishes Frimpong-Boateng's galamsey report; calls it a hearsay
Responding to the Chairperson of the 28th National and 16th Biennial Congress of the National Union of Ghana Catholic Diosecan Priests association in Koforidua, President Akufo-Addo said the sector ministry through its agencies has rid galamsey of every part of the country.
He indicated the action he has taken against the galamsey menace is not going to be a 9-day wonder irrespective of the cost involved.
"Let me respond briefly to the Chairperson on the issue of illegal mining. I want to assure him and all of you that Akonta Mining is not involved in illegal mining anywhere in Ghana as we speak," President Akufo-Addo said.
But according to Captain Smart, Wontumi should have been arrested if the government possesses the political will to fight galamsey.
Speaking Friday, April 28, 2023, on Maakye said several revelations from members of the NPP is enough evidence to show the lack of political will to curb the menace due to crop of people involved.
"I'm surprised the National Security Minister hasn't arrested Wontumi and the President even defended him," he said.
Mr. Smart mentioned further that, what Central regional First Vice Chairman of the NPP, Ekow Ewusi said about persons in the party that own illegal concession sites including party executives should have caused some arrests.
He added the 2021 IMCIM report from Prof. Kwabena Frimpong-Boateng which recently got leaked is also having names that require probe.
"The National Women's Organiser of the NPP, Kate Gyamfua's excavators were burnt for doing galamsey but was later refunded by the party. The NPP women went to her house to cry because they said she was the one taking care of them. Ama Sey, the former Akwatia MP's husband was also mentioned as having been involved. But which of these people was arrested or interdicted? he asked, adding that "80% of chiefs in Ghana are doing galamsey."
READ ALSO: Birim South: Chiefs scorn MP over neglect of constituency 
Follow @Felix Anim-Appau