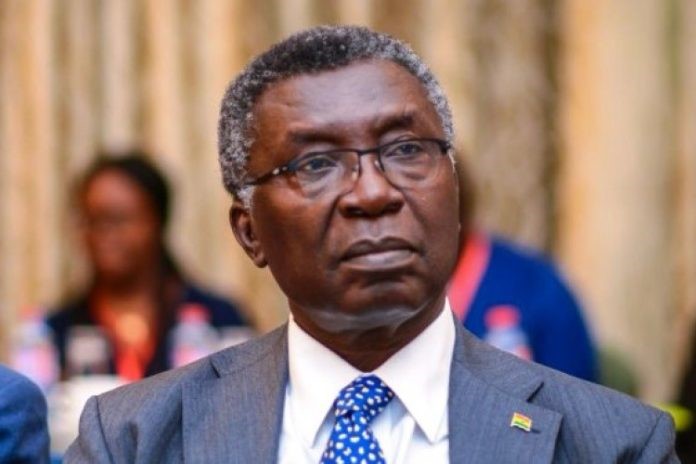 The Commissioner of the Commission of Human Rights and Administrative Justice (CHRAJ) has affirmed a report from his outfit that exonerates Professor Kwabena Frimpong-Boateng from engaging in illegal mining popularly referred to as galamsey.
Joseph Whittall, responding to contents of a 160-page document which probed the former Environment, Science, Technology and Innovation minister as to whether he was involved in galamsey or not said the man is not complicit in any of such allegations. .
The petitioner who caused for the Professor to be investigated, Arnold Agbodu, among other things sought to find out if Symphony Limited, a company belonging to Chair of the erstwhile IMCIM was possessing some five concessions, whether he engaged in any act of corruption or abuse of power by owning concessions without paying the Annual mineral rights to the Minerals Commission.
Speaking on the issue on Ghana Tonight on TV3 Tuesday, April 25, 2023, Mr. Whittall said: "What I know is that the Commission investigated the case on allegations of illegal mining against Prof. Frimpong-Boateng –that was as far back as 2019/20 thereabout –but we have since completed investigations and issued the report. And that report has been served for the parties.
READ ALSO: Political power both short-lived, effervescent – Frimpong-Boateng's 'fatherly' advice to Oppong Nkrumah
READ ALSO: IMCIM: Frimpong-Boateng makes damning revelations about Akufo-Addo's ministers in galamsey report
"We investigated allegations made against Prof. Frimpong Boateng, we went in and did a very thorough investigation, came out with our report –a 160-page report –and the outcome is that he was not involved in any illegal mining concession," he indicated.
When host, Alfred Ocansey sought clarification by asking him just for the benefit of emphasis that, after his investigations, this Symphony Limited belonging to Prof. Frimpong-Boateng, his wife and now his son were not involved in illegal mining, the CHRAJ Commissioner said "as a matter of fact that was the case, that was our finding."
President Addo Dankwa Akufo-Addo in 2017 set up an Inter-Ministerial Committee on Illegal Mining (IMCIM) tasked to monitor activities of galamsey operators and bring perpetrators of such to book.
Prof. Kwabena Frimpong-Boateng was tasked to lead the committee that was dissolved right after the 2020 elections.
In March 2021, the Chair delivered a solely-authored report to the Chief of Staff implicating some government officials and party apparatchiks in the illegal mining business.
Among the appointees cited are Minister of Information Kojo Oppong Nkrumah, former Senior Minister Yaw Osafo-Mafo, New Patriotic Party (NPP) lawyer Gabby Asare Otchere-Darko, former New Patriotic Party (NPP) lawmaker Joseph Albert Quarm and Kwadwo Osei Afriyie, popularly known as Sir John, who died on July 1, 2020, as the Forestry Commission Chief Executive Officer (CEO).
Some of them have denied the allegations, threatening to go to court.
Prof. Frimpong-Boateng also said in his report that the ministers who were on the committee abandoned the project with the exception of two.
Meanwhile, the Presidency has rubbished the report saying the content is the Professor's personal vendetta with some individuals, saying it is a hearsay.
READ ALSO: Presidency rubbishes Frimpong-Boateng's galamsey report; calls it a hearsay
By Felix Anim-Appau|Onuaonline.com