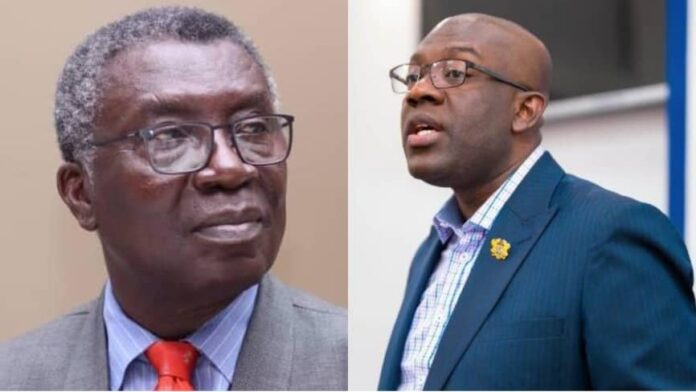 Information Minister Kojo Oppong Nkrumah (KON) had asked Prof. Kwabena Frimpong-Boateng to "leave me out of his personal fights" following the appearance of his name in a 37-page March 2021 IMCIM report.
Mr. Oppong Nkrumah after the report indicted him of sabotaging the work of the IMCIM by collating journos to work against the Committee Chair among others said "I am utterly disappointed but I forgive him" in a response he issued a day after the report was leaked.
Following the counter statement from KON, the old Professor has chosen to advise the young minister as a son rather than engaging in a cyber tussle with him.
READ ALSO: Hackers takeover Facebook page of Church of Pentecost Chairman to sell bleaching creams, penis enlargement products
A Sunday, April 23 statement from the chair of the IMCIM to KON says the minister is failing to see the realities of life, a situation he will appreciate after political power slips his hands.
According to him, just as he would advise his fourth son who is of the same age as KON, he should do his work diligently rather than seeking pride in certain descriptions being accorded him by one Paul Adom Otchere.
"I have good advice for you, though. When I was part of the government, we were colleagues and I related to you as such. Now I will advise you as my son, just as I do my children. After all you are the same age as my 4th born son. When I returned to Ghana from Germany to start the cardiothoracic project you were just 6 years old as my 4th child. I will not lie to you or insult you or be harsh on you.
"My advice is, always remember that political power is both short-lived and effervescent. In about 2 years' time you may no longer be in government and you may experience the real world as former high profile political powerholders do. I will urge you to do your work diligently and avoid the coded and evil tactics Mr. Paul Adom Okyere boastfully and unashamedly told the world on 'Good Evening Ghana' that you employ to deal with your real and perceived enemies," he advised.
READ ALSO: Chaos erupts at funeral as son opens father's coffin, urinates in grave
Background
Minister of Information Kojo Oppong Nkrumah responded to allegations levelled against him and captured in the report of Professor Kwabena Frimpong-Boateng on the Inter-Ministerial Committee on Illegal Mining (IMCIM).
Prof Frimpong-Boateng had cited Mr Oppong Nkrumah for gathering a group of journalists at the Forest Hotel at Dodowa to begin a mudslinging campaign against the respected heart surgeon while he chaired the Committee.
According to Prof Frimpong-Boateng, who was also Minister of Environment, Science, Technology and Innovation, the meeting of journalists from New Patriotic Party (NPP) and National Democratic Congress (NDC) media houses was to "discuss a strategy to bring me Kwabena Frimpong-Boateng down".
He complained Mr Oppong Nkrumah, who is also Member of Parliament for Ofoase-Ayirebi, never called him about the missing excavators though he was part of the Inter-Ministerial Committee.
READ ALSO: Afigya Kwabre South: DCE expresses worry over commercial sex workers influencing young ladies into act at Buoho
"If Kojo Oppong Nkrumah and the likes of him have presidential ambitions, they should pursue it on merit and not attempt to destroy a hard working patriot, whose only ambition is work to achieve a Ghana Beyond Aid," the old professor had concluded in the report dated Friday, March 19, 2021.
But in his reply on Friday, April 21, Mr Oppong Nkrumah wondered: "What would I, a much younger man, seek to gain from bringing down a person as well respected as Prof Boateng?
"I had no interests in his profession, his politics or his portfolios. I have absolutely nothing to gain from sullying his reputation."
He advised Prof Frimpong-Boateng to have interrogated that call from his journalist friend about the supposed 'secret' meeting at Dodowa before drawing his conclusions.
READ ALSO: Ofoase Ayirebi: Police chase step-father, mother & boys who assaulted 15-year-old girl
Mr Oppong Nkrumah expressed belief that in the coming months and years, Prof Frimpong-Boateng will reflect deeply on his own actions and comments which have led to his challenges.
"Over the years, I had nothing but great admiration for Prof Boateng's public spirited works and as an inspirational citizen.
"I feel gravely offended over the false claims he has made and the hurtful conclusions he has sought to exact about me precisely because of the great esteem in which I have held him."
He says inasmuch as he is utterly disappointed, he forgives the former Cabinet Minister.
READ ALSO:'You'll become a leader of brigade of lies if you're not careful' – Smart cautions Oppong Nkrumah
By Felix Anim-Appau|Onuaonline.com