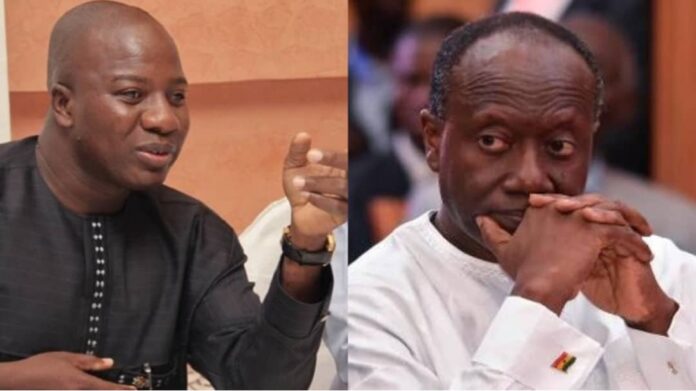 The Finance Minister's quest to establish the Ghana Financial Stability Fund (GFSF) may hit a snag following a legal action against him by the MP for Bawku Central, Mahama Ayariga. 
According to the Member of Parliament, Ken Ofori-Atta's unscrutinised approach to manage the Fund is an affront to the laws of the land.
A November 15, 2023 writ submitted to the apex court of the land seeks among other reliefs, that the GFSF be declared illegal and unconstitutional.
The lawmaker is further asking the Supreme Court to direct the Minister to submit the Fund to Parliament for scrutiny.
"Declaration that the establishment of the Ghana Financial Stability Fund (GFSF) through administrative fiat issued by the Ministry of Finance and Economic Planning is illegal and unconstitutional, as it violates the provisions of articles 175, 176, 178, and one 179 of the 1992 Constitution of Ghana," portions of the writ stated.
He further noted in his writ that the "Ministry of Finance's use of opaque and unscrutinized mechanisms for the administration and disbursement of funds from the GFSF, without the necessary authorization by an express Act of Parliament, is a clear disregard for the 1992 constitution of Ghana, as outlined in articles 175, 176, 178, and one 179."
Mahama Ayariga has already taken further steps by submitting a petition to the World Bank and the International Monetary Fund (IMF), urging them to refrain from supporting the Ghana Financial Stability Fund (GFSF).
READ ALSO: Mahama Ayariga petitions World Bank, IMF to reject Ofori-Atta's 'fraudulent' GFSF
He wants the Bretton Wood Institutions to kick against the Fund because he says it is illegal.
In a letter directed to the local offices of the World Bank and IMF in Ghana, Mr Ayariga highlighted that the GFSF has not undergone parliamentary scrutiny or received subsequent approval, making it ineligible for support from these international financial entities.
READ ALSO: 'This is not the end of the road' – IMF Mission Chief to Ghana on decline of inflation rate