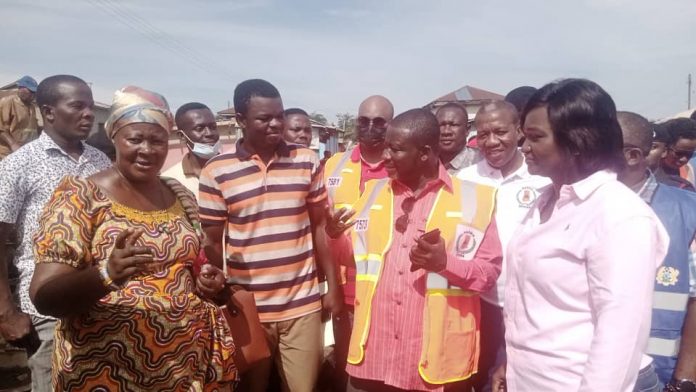 The National Disaster Management Organisation (NADMO) has cautioned Ghanaians to be wary of the rains as torrential volumes are yet to come.
Its Director-General, Nana Agyeman-Prempeh, gave the caution when his outfit released a consignment of relief items for distribution to flood victims in the Komenda Edina Eguafo Abrem (KEEA) Municipality.
The gesture follows an assessment of damage to property and disruption of the livelihood of people in the areas following the heavy rains Friday night.
Nana Agyemang-Prempeh toured communities in the Central Region affected by the floods with some government appointees, including the Regional Minister, Justina Marigold Assan.
"We are going to experience more rains so we must all be careful with what is coming to us. It's all over the world. Currently in West Africa it is raining heavily so if it's raining in Burkina Faso, we should expect that it would descend down to Ghana so we should all be on guard," he advised.
"Looking at all the disasters, none of them is man-made. They're natural disasters and today with climate change, the rainfall, you cannot do anything about it. The only thing is that we need to be careful with our sanitation systems and some of the places, the way we build in water ways"
Meanwhile, Central Regional Minister, Justina Marigold Assan, said the region is in a state of mourning for the life of a senior prison officer that was claimed by the floods.
She assured contractors were going to be on site to fix the challenge as soon as possible.
"It was Jukwa we heard first. We were talking to Urban roads, the Ministry of highways and they gave us the assurance that the contractor was moving to site to take boulders to quickly put the interventions on the ground for people to be able to use the road," she said.
Mrs. Assan expressed the situation at KEEA was an eyesore and needed a quick intervention to salvage the situation.
"Just around that time I had a distress call from the MCE of KEEA telling me about the disaster happening too at his end so we had to quickly move in to access the situation. It was so pathetic. Honestly a lot of people had been displaced and we needed to rush in quickly. And thankfully we called NADMO national and they came in quickly and at 12 midnight, chunk of goods had arrived and we are moving to the place to give relief items to the affected people," she disclosed.
On the night of Friday and Saturday dawn, many residents in the Central region experienced flooding after some downpour within the period. Several properties were lost including the life of one person.
Some of the affected communities visited included Ntranoa, Abee, Abeena, CP, Berase, Essiam, Atrokwa and Abeyee. Others were Dutch komenda, Komenda, Antado, Simiw and Amissano'
By: Timothy De-Mark Gaison/Felix Anim-Appau|Onuaonline.com|Ghana